Deutsche Bank today posted its third consecutive annual loss in 2017, taking a hit from challenging markets, a drop in investment bank revenue and a US tax reform, after a difficult fourth quarter.
The worse-than-expected results are likely to increase pressure on chief executive John Cryan to turn Germany's biggest bank around.
"We believe we are firmly on the path to producing growth and higher returns with sustained discipline on costs and risks," CEO John Cryan said in a statement.
"We have made progress, but we are not yet satisfied with our results," he added.
Investors have called on Cryan to cut costs, but the bank said it anticipated costs in 2018 of €23 billion, higher than a previously targeted €22 billion.
Last March Deutsche announced an overhaul that includes the integration of its Postbank retail bank unit with its own in-house Deutsche Bank-branded consumer bank, as well as the partial sale of its asset management unit.
Today it said the integration with Postbank was "on schedule" and that it would partially float its asset management unit "in the earliest available window".
Still, the bank's executives have warned that a recovery would be a long, hard slog that would take years, not quarters.
Continued weak performance at the bank has prompted some investors to question whether Cryan should be given more time to turn around the bank, after less than three years as CEO.
It reported a 2017 loss of €497m, worse than the loss of €290m forecast by nine banks and brokerages polled by Reuters.
US tax reforms prompted a non-cash tax charge of €1.4 billion, pushing the bank into a full-year loss.
In the fourth quarter, Deutsche's net loss widened to €2.19 billion from €1.89 billion a year earlier and revenue slumped 19% to €5.7 billion.
Analysts had forecast a loss of €1.95 billion on revenue of €6.2 billion.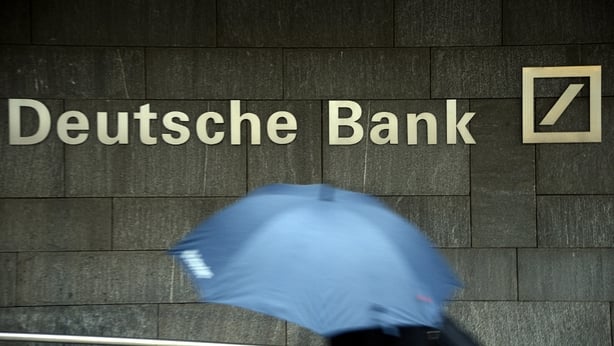 Its cash-cow bond-trading division saw revenue tumble 29% due to lower client activity in less volatile markets. Competitors saw similar declines.
During his tenure, Cryan has stabilised the bank, raised capital, designed an overhaul, confronted legal challenges and managed the demands of greater regulation.
Recently, the bank has been the focus of national debate over its intention to resume bonuses despite its full-year loss.
Earlier this week, German government spokesman Steffen Seibert told reporters: "Company management must of course ask what impression it leaves in public."
Compensation at the investment bank rose 45% in the fourth quarter to €1.29 billion.
Deutsche Bank has become a major player on Wall Street over the past two decades but misguided bets and poor conduct have resulted in a litigation bill of €15 billion since 2009.
Legal battles have ranged from its role in the marketing of US mortgage-backed securities to a so-called "mirror trading" scheme that could be used for money laundering.
Last year, a looming $14 billion fine from the US Department of Justice had unsettled clients and investors and prompted talk of a government bailout.