The euro briefly shot past $1.25 to a new three-year high today after Mario Draghi said the European Central Bank did not target foreign exchange rates when asked about the strength of the currency.
Speaking at a press conference following an ECB meeting, Mario Draghi said that recent currency volatility was a source of uncertainty.
But he did not express outright unease with the euro's strength.
The euro surged to $1.2538, its highest level since December 2014, before slipping to trade at $1.2489, up 0.6%. The single currency was flat before Draghi started speaking.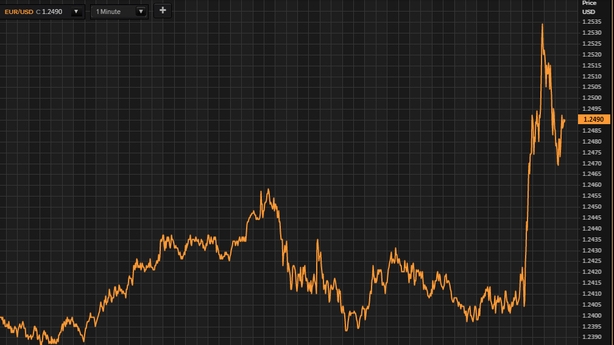 With the euro touching a series of three-year highs in recent days, some traders were expecting Draghi to talk down the single currency, given its rise could squeeze the competitiveness of euro zone exporters down the line and pull down inflation.
US Treasury Secretary Steven Mnuchin said yesterday that he welcomed the weaker dollar because it was "good for us". His remarks extended the US currency's recent slide.
Speaking in Davos, Steven Mnuchin said that a weaker dollar boosted US trade opportunities, which heaped pressure on the greenback.
Mario Draghi said today the ECB might have to review strategy if US comments on a weak dollar lead to a change in monetary conditions.
The euro is now up 4% against the dollar in 2018, and 7.2% over the last six months.
Europe's single currency also rose as much as 0.4% against sterling after earlier trading flat.