Professor Philip Lane has defended the Central Bank's handling of complaints made by UniCredit whistleblower Jonathan Sugarman.
The Governor of the Central Bank told the Oireachtas Finance Committee: "We are satisfied that we dealt with this in a way to kind that is entirely in keeping with being a first class regulator."
John McGuinness, the chairperson of the committee, has questioned the Central Bank officials about a letter dated 10 January from the Central Bank to the Finance Committee, about complaints made by Mr Sugarman.
He was the risk manager at UniCredit who warned of liquidity breaches at his bank in 2007.
Mr Sugarman has claimed that prompt action in 2007 might have avoided the need for a blanket guarantee and bailout of the Irish banks.
Mr McGuinness said he concerned that Mr Sugarman made a complaint of 2007.
He said he hopes that there is a greater urgency about the response the Central Bank could give in terms of reported breaches reported to it.
Ed Sibley, Deputy Governor of Prudential Regulation at the Central Bank, says they take breaches "very seriously".
He said that since the financial crisis and certainly since the appointment of Matthew Elderfield as deputy governor, the credible threat of enforcement has been central of our overall supervisory approach.
He said "the evidence of that is the more than 100 successful public enforcement cases and millions of euro of fines imposed, including this entity that Mr Sugarman worked at".
He added, "My predecessor and his predecessor before him looked at this issue. Specifically there have been third party reviews of the specific issue and also the broader framework in place.
"We have also done our own investigations and I am satisfied that the actions taken in this particular case was appropriate. And that includes the further meeting that was held with yourself and Mr Sugarman and the Governor," he added.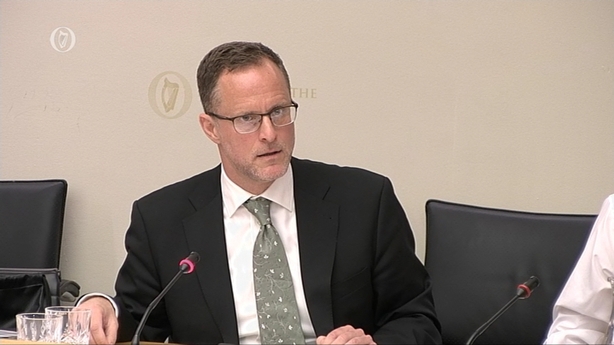 He said that it is "noteworthy in this particular case the type of business we are talking about here. It is a subsidiary of a parent organisation. Many of its transactions, its core business, is associated as a funding vehicle for the parent...Any comparison with the likes of Northern Rock or the domestic banking system here are not really well founded."
"I would also note in relation to the specific breach that Mr Sugarman refers to in August '07 that the liquidity regime in Ireland changed in July 2007."
He added, that "The amount of time that has been spent on this case, absolutely demonstrates the seriousness with which we take information that is brought to us.
Mr McGuinness pointed out that "on the issue of reporting, it has to be said that Mr Sugarman reported a breach that was 20 times over the limit. And when that was independent assessed it was found to be 40 times over the limit. This was not just one single breach, one single incident. It goes beyond that."
Quoting the Central Bank letter, he pointed out that is satisfied it to appropriate action, but "You have not confirmed whether you fined the bank, whether there was an administrative sanction against the bank relative that complaint and it is something that you keep saying you cannot comment on."
Professor Lane, said, "We try to explain the range of how we deal with any breach of our regulations. There is range which remains private and a range where there is a public disclosure of the administrative sanction. You do hit a limit of information here so we do not indicate publicly actions that are in the realm of private sanctions or regulatory actions."
He said he recognises that is a source of frustration for Mr McGuinness and Mr Sugarman.
However he added, "We have no reason in any way to not maintain the highest regulatory standards... We are satisfied that we dealt with this in a way to kind that is entirely in keeping with being a first class regulator."
Mr McGuinness said the one complaint that sticks in his mind was one Mr Sugarman made at our meeting was that there were other breaches and he was told not to report those breaches.
He said, "It goes to the heart of the issue, certainly in his case, where as a risk manager he was told not to report the other breaches at that time and that is the reason why he resigned. So he had reported breaches and what broke him in terms of staying in the bank or resigning is that he was told not to report the breaches."
He said that bank is still in business in this country. Professor Lane said he understands the reasons that Mr Sugarman has given and that has been factored into investigations of this event.
He added, "It is frustrating that we cannot disclose any further information."
He said that the account given by Mr Sugarman was fully factored into how this case was handled. He added, "We are satisfied that we handled this appropriately."