The Irish Stock Exchange said that ISE-listed companies raised €5.1 billion in equity funds from international investors during 2017.
In its review for last year, the ISE said it is the number one exchange for new and total bond listings and investment fund listings with 90 countries now represented on its markets.
The Irish Stock Exchange also saw some major flotations during the year.
AIB raised €3.4 billlion for the State in the largest IPO in Europe and EMEA in 2017, while renewable energy company Greencoat raised €270m through its IPO in July on the Enterprise Securities Market.
Homebuilder Glenveagh Properties raised €550m in its IPO in October when it took a primary listing on the MSM and Cairn Homes also took a primary listing on the MSM during the summer.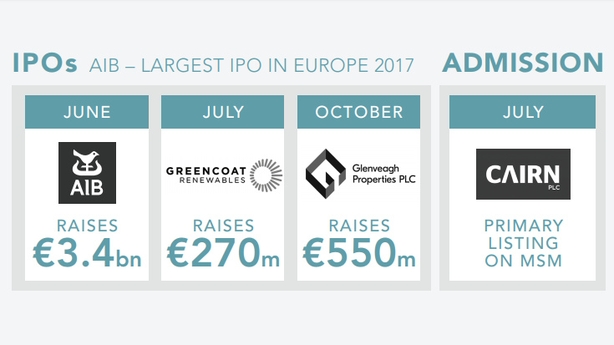 Overall, the ISEQ index rose by 8% last year, while equity turnover saw its sixth consecutive year of growth - rising by 9.9% to €98 billion.
The ISE said its market capitalisation rose by 7.2% to €127 billion, while total trades dipped 0.4% to 6.6 million.
In November, the Irish Stock Exchange was bought by Euronext, which already operates some of Europe's main exchanges.
The deal was worth €137m on a debt-free/cashfree basis, and excludes regulatory capital requirements estimated at €21.8m.
The sale resulted in a windfall for the Irish stockbroking firms that own the more than 200 year old Dublin institution - Davy, Fexco-owned Goodbody Stockbrokers, Investec, Cantor Fitzgerald and Campbell O'Connor.
Deirdre Somers, the Irish Stock Exchange's chief executive, said that 2017 was a "stellar year" for the ISE.
"For the first time we have over 30,000 debt securities listed and we are the number one exchange in the world for new and total bond listings as well as investment funds at the end of 2017.
Ms Somers said the "landmark" acquisition by Euronext is the start of a new chapter of great opportunity, adding that. Euronext is highly complementary to the ISE.
"Our role as the group centre of excellence for listing debt, funds and exchange traded funds (ETFs) within their federal model and the development of innovative services for equity issuers and SMEs is hugely exciting for our future," she said.
"We look forward to leveraging Euronext's technology, support and services to enable us to achieve our growth ambitions," Ms Somers added.