New figures from the Central Statistics Office show that seasonally adjusted export figures decreased by 1% to €9.506 billion in November of last year compared to the previous month.
Today's preliminary figures from the CSO also show that seasonally adjusted imports increased by 4% to €5.999 billion.
This resulted in a 9% fall in the seasonally adjusted trade surplus to €3.507 billion in November.
Today's CSO figures show that exports to the UK fell by 19% to €1.290 billion in November 2017 compared with November 2016 with most of this decrease in chemicals and related products exports.
However, exports to the UK for the 11 months from January to November rose by 8% compared to the same time in 2016.
Meanwhile, imports from the UK rose by 9% to €1.617 billion on the back of increases in imports of mineral fuels, lubricants and related materials and food and live animals.
Imports from the UK for the first eleven months of 2017 increased by 9% compared with the same time in 2016.
Today's figures also show that exports of medical and pharmaceutical products decreased by 10% to €3.068 billion on an annual basis in November. 
The CSO said that exports of electrical machinery, apparatus and appliances slumped by 39% to €429m, while exports of organic chemicals were down 11% to €1.929 billion.
However, exports of food and live animals increased by 9% to €1.042 million over the same time, mainly due to increases in the exports of live animals, meat and meat preparations and dairy products and birds' eggs.
The CSO said that the imports of organic chemicals fell by 28% to €313m in November, while imports of mineral fuels increased by 17% to €452m, mainly due to increases in the imports of petroleum and gas.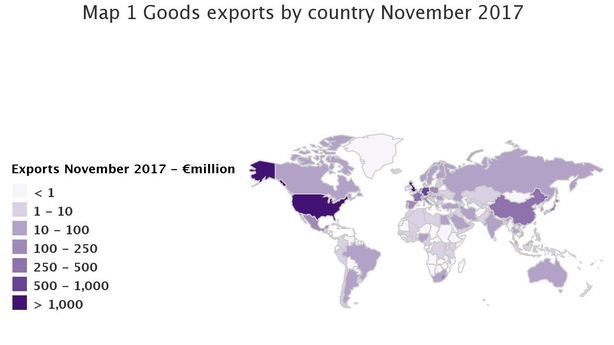 The EU accounted for 48% of total goods exports in November 2017,  down 10% compared with November 2016. Exports to Belgium were worth €836m and to Germany €684m. 
The US was the main non-EU destination accounting for 27% of total exports in November 2017.
Meanwhile, the EU accounted for 62% of the value of goods imports in November 2017. The US with 16% and China with 7% were the main non-EU sources of imports.