The number of new cars licensed last year fell by 10.5% compared with the previous year, the latest Central Statistics Office figures show.
A total of 127,045 new private cars were licensed for the first time in 2017, down from the figure of 141,931 in 2016.
But the number of used, or imported, private cars licensed rose to the highest level on record.
The sale of imported cars jumped by 31.9% to 92,508 in 2017 compared with 70,138 in 2016 as buyers continued to take advantage of a weaker sterling.
The CSO said that 49.2% of imported cars were three to five years old, while 1.9% were less than one year old and 4.8% were ten years or older.
Today's figures also show that 601 new private cars were licensed for the first time in December of last year, down 11.5% compared with December 2016.
The CSO said that Volkswagen was the most popular make of new private cars licensed in 2017, followed by Toyota, Ford, Hyundai and Nissan.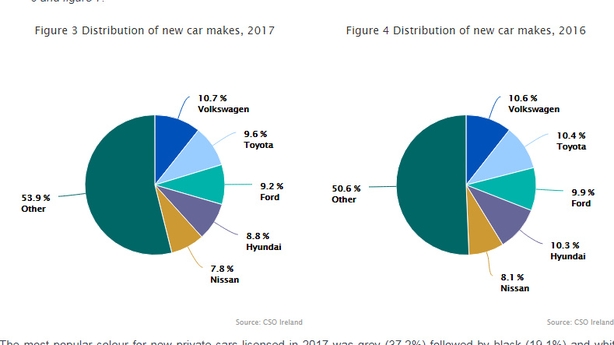 Together these five makes represent 46.1% of all new private cars licensed during the year.
Meanwhile, the most popular new private car model licensed last year was Hyundai's Tucson.
Today's CSO figures also reveal that the most popular colour for new private cars licensed last year was grey (37.2%) followed by black (19.1%) and white (15.2%).
The most popular colours in 2016 were grey (20.7%), black (19.3%) and silver (15.7%).