Growth in residential property prices cooled slightly to a four-month low in annual terms in November, new figures from the Central Statistics Office show.
Residential property prices nationwide increased by 11.6% in the year to November. This compares with an increase of 11.8% in the year to October and an increase of 9.2% the same time in 2016.
On a monthly basis, house prices rose by 1.1% in November after a 0.4% rise in October.
A lack of supply combined with surging demand has boosted house prices. But prices are still 23% below the peak hit at the height of a property bubble a decade ago.
Today's CSO figures show that Dublin residential property prices increased by 11.3% in the year to November. 
Dublin house prices increased by 11.5%, while apartment prices rose by 11.8% in the same period. 
Breaking down the Dublin regions, the CSO said the highest house price growth was seen in Dublin City, at 13.3%. Dun Laoghaire-Rathdown saw the slowest rate of growth at 10.8%.
Meanwhile, residential property prices outside of Dublin were 11.7% higher in November compared to the same time last year.
House prices in the rest of Ireland rose by 11.6% over the period, while apartment prices jumped 13.2%,
The CSO said that the West region showed the greatest price growth, with house prices there increasing by 16%, while the Mid-West region showed the least price growth of 8.9%. 
In the 12 months to November, the median price paid by households nationwide for a home was €224,000. 
Dublin had the highest median price of €345,000. Of the four administrative areas of Dublin, Dún Laoghaire-Rathdown had the highest median price of €520,000, while Fingal had the lowest median price at €310,274.
Outside Dublin, the highest median prices were seen in Wicklow at €300,000 and Kildare at €270,000. 
The lowest median prices for a home were in Longford at €84,500 and Roscommon at €87,500.
Today's CSO figures also reveal that 42,925 household market dwelling purchases were filed with the Revenue Commissioners in the 12 months to November. 
Of these, 12,050 (28.1%) were by first-time buyer owner-occupiers, while 22,202 (51.7%) were purchases by former owner-occupiers and 8,673 (20.2%) were purchases by non-occupiers.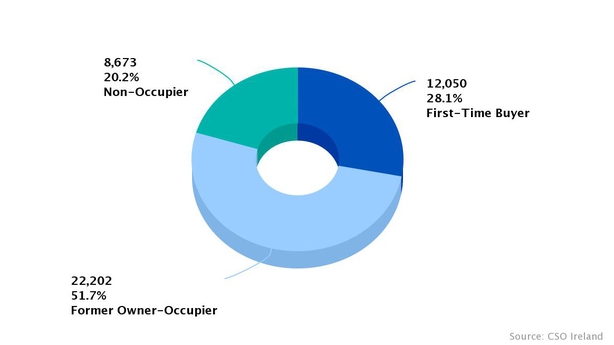 The CSO said that 1,266 first-time buyer purchases were filed with Revenue in November, up 15.5% compared to the same time last year.
Commenting on the figures, Merrion Capital Economist Alan McQuaid said: "We see house price growth staying in positive territory on a year-on-year basis for the foreseeable future, with the annual rate of increase now looking like it's set to remain in double-digits for well into 2018 at least.
"The biggest increase this year is likely to come from outside the capital, with the asking price for houses in more expensive areas rising at a slower rate.
"Changes to Central Bank rules mean that in more expensive areas, the trend of increasing house prices will not be as pronounced.
"Previously up to a fifth of mortgages were allowed to exceed a loan-to-income ratio of 3.5. But this is becoming even tighter in 2018 with only 10% of those trading up allowed to breach that rule.
"The allocation remains unchanged for first-time buyers. Dublin prices will be out of reach for more borrowers as a result, while in other areas where buyers will not need to borrow as much, prices will see stronger growth."
Goodbody economist Dermot O'Leary also noted that housing transactions maintained their strong growth momentum in November, with 5,873 transactions recorded.
This was up 11% on an annual basis and marked the largest month of transactions since January 2015. 
"On a rolling 12-month basis, the level of transactions (60,120) has breached the 60,000 threshold for the first time in the post-crisis era," he added.
According to Dermot O'Leary, the most notable aspect of the activity trends relates to new homes purchases. 
He said that while the numbers remain small, November saw the largest number of new homes sales to households in the series - going back to January 2010. 
Purchases of new homes by first-time buyers grew by 49% yoy in the eleven months to November, but do not represent the largest cohort of buyers, with owner-occupiers accounting for 36% compared to 31% for FTBs. 
"The Help-to-Buy scheme is undoubtedly playing a role in boosting demand, with the largest proportion of the take-up in the traditional FTB price bracket of €226,000-€300,000," Mr O'Leary said.