Former financial regulator Patrick Neary is scheduled to give evidence at an inquiry investigating alleged breaches by five key figures at the now defunct Irish Nationwide Building Society.
Mr Neary is 15th on a list of witnesses the inquiry will hear from when it resumes.
The inquiry was scheduled to resume tomorrow, Tuesday, but has been postponed until next week.
Two witnesses are listed for each day and the inquiry will sit for four days each week (Tuesday to Friday).
The inquiry is also expected to hear from Con Horan - the former prudential director at the financial regulator - in the coming weeks.
One of the accused, former managing director of INBS, Michael Fingleton told the inquiry in his opening statement before Christmas the case against him was "artificially trumped up" to deflect attention from the failings of the Department of Finance and the Central Bank in the lead-up to the financial crisis.
The other accused are former INBS chairman Michael Walsh, former company secretary Stan Purcell, former head of commercial lending Tom McMenamin, and William Garfield McCollum, who headed Irish Nationwide's UK lending.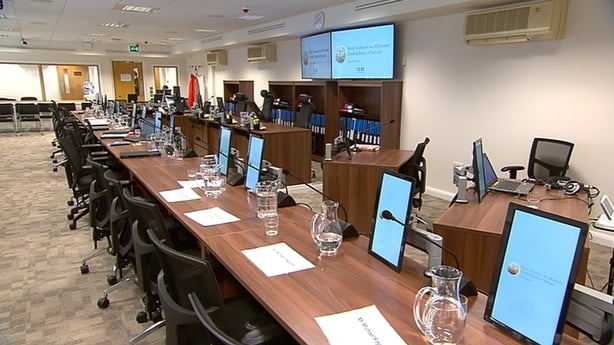 All of the accused, except for Mr McCollum, are included towards the end of the 27-person witness list.
Former head of home loans at INBS Brian Fitzgibbon, as well as former INBS directors David Brophy and Terence Cooney are also listed as witnesses.
The suspected breaches at INBS relate to the way the former building society allegedly failed to process loans in line with policies, allegedly failed to vary loans in line with policies, and allegedly failed to get valuations in line with policies.
They also relate to alleged failure to ensure commercial lending was in line with internal policies, alleged failure to ensure reports on commercial lending were supplied to the board, and that profit-share agreements were in line with risk policies.
Witness evidence is expected to focus solely on the breach relating to the role of the Credit Committee at INBS, covering the period between July 2006 and September 2008.