The volume of retail sales increased by 2.6% in November on a monthly basis, the latest figures from the Central Statistics Office show, on the back of strong Black Friday sales.
Retail sales were up 6.8% on an annual basis, the CSO added. 
Today's figures were stronger than had been expected.
If car sales are excluded, there was an increase of 1.9% in the volume of retail sales in November compared to October, while there was an increase of 7.6% in the annual figure.
While retailers reported their busiest ever Black Friday and Cyber Monday sales, industry body Retail Excellence Ireland said that came at the expense of Christmas which it expected to be on a par with last year.
The sectors with the largest monthly volume increases were electrical goods, which rose by 14.5%. Department stores sales increased by 6.7% while "other" retail sales - which include the likes of carpets, toys, flowers, plants, pets animals and pet food - increased by 5.7%.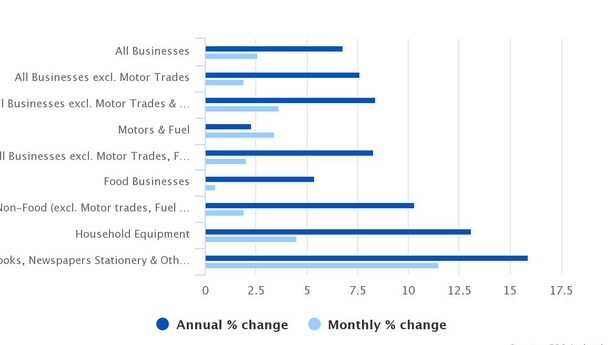 But sales of pharmaceuticals medical and cosmetic articles slumped by 11.2% on a monthly basis while bars sales fell 1.5% and sales of books, newspapers and stationery were down 1.2%. 
Commenting on today's figures, Merrion economist Alan McQuaid said that while retail sales remain erratic on a monthly basis and are still swinging back and forth, the underlying trend is positive. 
"While most attention has been on new car sales in the past couple of years, which were lower in 2017 than 2016, personal spending in other areas has picked up over the same period and is becoming more broad-based," the economist noted.