The National Asset Management Agency said it has reduced its exposure to unfinished housing estates from a peak of 335 in 2010 to just eight at the end of 2017.
The agency expects to resolve the remaining unfinished estates this year.
In its 2017 year-end review, NAMA also said it has delivered almost 2,500 social housing units in the past six years.
The agency established a special vehicle, NARPS, in which €350m has been invested to make social housing units habitable.
These units are then leased to local authorities and approved housing bodies.
The agency's 'Residential Delivery' programme had delivered around 7,200 units by the end of last year, with 9,500 more units under construction or having planning.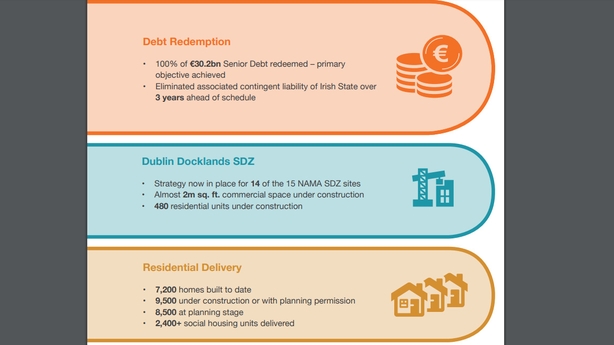 The report also said construction is under way at six sites in the Dublin Docklands Strategic Development Zone, which have the capacity to deliver 1.9m sq ft of commercial space and 480 residential units.
In addition, planning permission has been obtained for an additional 1m sq ft of commercial space and 900 residential units in the area.
NAMA has redeemed all of its senior debt and is on course to make a profit of around €3 billion for the Exchequer when it completes its work in 2020.