The number of people employed in IDA Ireland client companies has reached an all-time high of 210,443.
Year-end figures for 2017, published by IDA Ireland today, show the agency has surpassed its five-year job creation target two years ahead of schedule.
But the agency's boss, Martin Shanahan, warned that the environment in which agencies like the IDA seek out Foreign Direct Investment has become extremely competitive, and spoke of downside risks including Brexit, the tax changes in the US and rising protectionism.
The IDA said it secured 237 investments from client firms last year - 111 of them from companies that had not invested in Ireland before.
There were 19,851 job gains in the FDI sector in 2017, while 9,167 jobs were lost in the sector during the year. This left a net employment gain of 10,684.
At the end of 2016, the total number employed in the sector was 199,877, with 2017's net job gain taking the total employed to 210,443.
The number of job losses in the sector in 2016 - 6,785 - was significantly lower than average over the past decade.
"To put this in context, in 2008/2009 Ireland lost nearly 34,000 FDI jobs. This is a salutary reminder that we can take nothing for granted n the foreign investment world - all jobs must be fought for and won against increasing international competition," commented IDA Ireland CEO Martin Shanahan.
The IDA has been working through a five-year strategy for the period 2015 to 2019.
At the outset the agency set itself a target of increasing employment in the FDI sector by 40% over that period - a target the agency says has been exceeded by the end of year three.
It has conducted a mid-term review of the strategy, to take account of developments like Brexit and the Trump administration's policies.
It is now making a number of adjustments to the strategy and as part of this its "global footprint" will be re-organised from three to four territories - the UK will become a separate territory, in addition to the USA, Europe and Asia Pacific.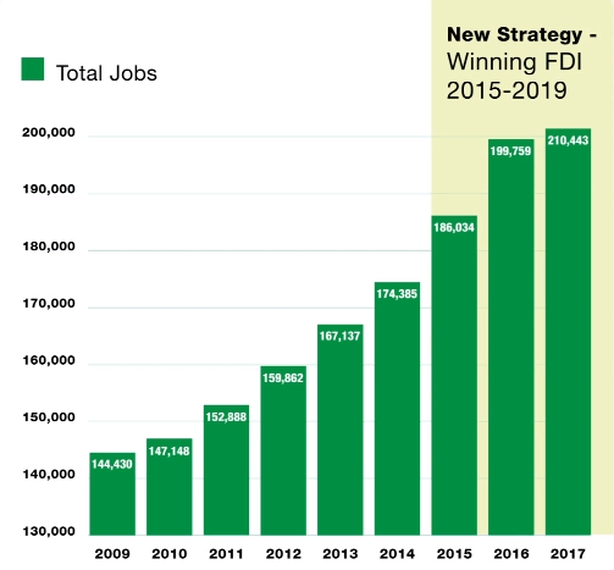 As of now, the IDA's European business will be run out of its Frankfurt office.
It will open a new Canada office in Toronto this year - building on last year's EU-Canada trade deal - and will locate exploratory operations in Dubai, Turkey, and South Africa.
The IDA's market diversification strategy is starting to have an impact, with the share of investment from the US dropping from 72% in 2016 to 67% last year, while Europe accounted for 24%, up from 20% the previous year. So-called "Growth Markets" increased from 8% to 9%.
The IDA strategy will also focus on the opportunities and challenges presented by Artificial Intelligence (AI) and robotics.
"In the short to medium term technological developments such as AI and robotics are likely to have a major impact on the future of work and employment across all sectors," Mr Shanahan said.
Establishing the UK as a separate business territory for the IDA is a reflection of the significance of Brexit for Ireland.
The agency has won a number of Brexit related investments, and has been active in Brexit related conferences and events across the globe.
It is focussing on attracting investments from the UK in the technology, life sciences, financial services and legal sector.
In support of its regional development mandate, the IDA has been building factory and office units in a number of towns outside the capital, stepping into a gap left by the private sector.
It has secured tenants for the first buildings completed under the programme in Waterford, Athlone and Sligo.
Two new buildings in Castlebar and Tralee are also complete and are being marketed to potential clients, and construction is underway on a site in Galway.
Further buildings are planned for Carlow, Dundalk, Limerick, Athlone and Waterford over the next two years.
The leading investments secured by IDA Ireland in 2017 included;
Element Six, based in Shannon, Co Clare announced the creation of an additional 100 jobs in the areas of supply chain, engineering and manufacturing.
Mercury Filmworks in Kilkenny joined forces with Kilkenny-based animation studio Cartoon Saloon to create an all-new 2D-focused animation studio in Ireland, Lighthouse Studio which will create over 140 jobs
Indeed.com - the world's largest job site - announced expansion plans for its Dublin-based headquarters for Europe, the Middle East and Africa, adding 500 new employees over the next two years.
Microsoft announced it will add 800 new jobs at its Dublin based EMEA Inside Sales organisation.
Mobile Technologies said it will hire 150 people in its newly established European Contact Centre Headquarters in Drogheda, Co Louth.
BorgWarner announced it is to add a new production line for electric vehicle technology and create 50 new jobs in Tralee, Co Kerry
MSD announced that 330 new jobs will be created in Carlow and Cork, while the company will invest €280m to expand production facilities.
Northern Trust said it will add up to 400 new jobs in Limerick.
Graebel Companies announced the creation of 125 new jobs in a EMEA Financial Shared Services and Operations Centre in Dundalk, Co Louth.
KBRA, the credit ratings agency, said it had selected Dublin for European Headquarters and will create 100 jobs.
Janssen Sciences Ireland announced an expansion of its Ringaskiddy, Co Cork facility. The expansion plans involve an investment of over €300m and will create 200 new jobs.
Wasdell Group will establish a pharmaceutical packaging and distribution facility in Dundalk, Co Louth creating 300 jobs over five years.
Beckman Coulter, which develops, manufactures and markets products that simplify, automate and innovate complex biomedical testing, is expanding the company's development and manufacturing facility at Lismeehan, Co Clare, creating 70 jobs over the next two to three years.
National Pen, a leading global provider of personalised marketing merchandise, celebrated its 30th anniversary in Dundalk, Co Louth and announced that it will add 250 new jobs.