Property investment in Northern Ireland increased by 25% last year to £325m when compared with the previous year, reversing a trend that had seen transactions halve.
A new report from Savills Ireland – which transacted 62% of all NI property deals in 2017 – also indicates that demand for secure city centre-based investments returned last year, with the retail sector at the forefront.
Retail assets – including shopping centres, retail parks, shops and food stores – accounted for 67% of turnover in the market, with 27 transactions completed or agreed during the year.
The report says the offices market performed well last year, with £50.3m of sales completed or agreed during the year, however, due to a lack of stock, turnover was somewhat down on the £75m traded in 2016.
According to Savills, with strong lettings and rental growth over the last two years, it is anticipated that the supply of new office developments will start in earnest next year, which should lead to a substantial increase in investment volumes.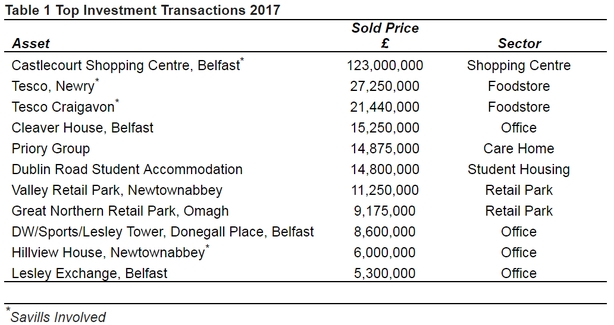 Despite all the positive indicators, Savills note that one large transaction – the £123m purchase of Castlecourt Shopping Centre in Belfast by Wirefox last July – accounted for almost 40% of the annual total.
Savills NI Director Ben Turtle said: "2017 saw a welcome return to robust investment activity, but it's hard to ignore the fact that without the Castlecourt Shopping Centre deal, it would have been a disappointing year.
"Nonetheless, market fundamentals remain strong, with rental and value growth in both retail and office markets, which should continue to attract investor demand."
He added: "Northern Ireland's ability to attract further investment will depend on resolving the political impasse that has resulted in the Stormont assembly being suspended for much of 2017 and, of course, Brexit.
"The fact that Brexit negotiations have now advanced to phase two discussions on wider ranging trade arrangements is a positive development."