New figures from the Central Statistics Office show that consumer prices rose by 0.5% in November, down slightly from the six-month high of 0.6% reached in October.
Inflation rose last month on the back of higher rents and electricity costs, more expensive meals out and higher petrol and diesel prices.
On a monthly basis however, the CSO said that consumer prices decreased by 0.2%.
Today's figures show that on an annual basis, the cost of housing, water, electricity, gas and other fuels rose by 3.7% due to higher rents and electricity price hikes.
Prices in restaurants and hotels rose by 2.6% due to higher prices for food and drink as well as more expensive hotel accommodation.
Transport costs were 0.9% higher due to more expensive petrol and diesel. These increases were partially offset by lower car prices.
However, the price of furniture, clothing and footwear, and good and non-alcoholic drinks all fell on an annual basis in November.
The biggest monthly changes to consumer prices included lower hotel accommodation prices and a fall in the cost of health and motor insurance.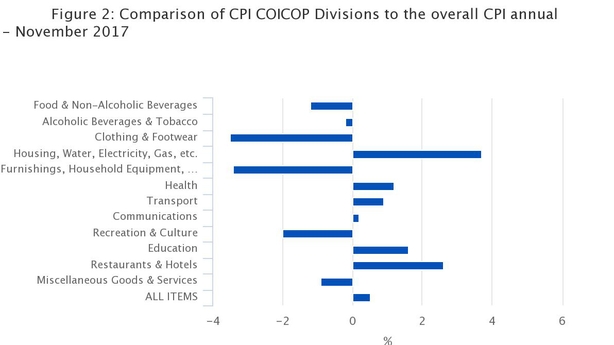 However, clothing and footwear prices increased due to a recovery from sales, while the cost of home heating oil, electricity and gas also rose.
The Irish economy has been the fastest-growing economy in Europe for the last three years, but inflation has remained largely flat over that time.
In recent months, the Brexit-related fall in the value of sterling against the euro has made imports cheaper.