An inquiry into the stewardship of the now defunct Irish Nationwide Building Society - which cost the taxpayer over €5.4 billion after it collapsed during the financial crisis - restarted in Dublin today.
The public hearings are into alleged breaches of the Central Bank Act by five key figures at the former financial institution, including its former managing director Michael Fingleton.
The other accused are former chairman Michael Walsh, former company secretary Stan Purcell, former head of commercial lending Tom McMenamin and William Garfield McCollum, who headed Irish Nationwide's UK lending
The Central Bank's inquiry chairperson, Marian Shanley, this morning listed seven suspected breaches, which the probe is examining.
The suspected breaches relate to the way the former building society allegedly failed to process loans in line with policies, allegedly failed to vary loans in line with policies and allegedly failed to get valuations in line with policies.
They also relate to alleged failure to ensure commercial lending was in internal policies, alleged failure to ensure that reports on commercial lending were supplied to the board and that profit share agreements were in line with risk policies.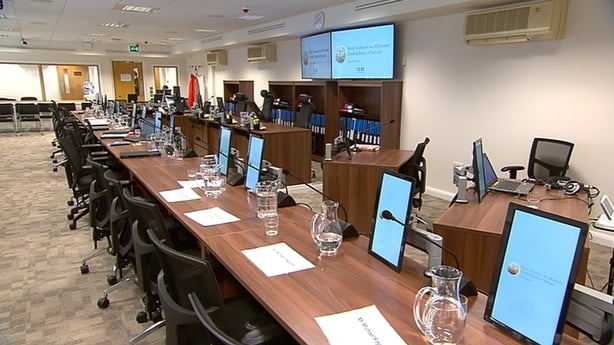 It covers issues surrounding insufficient controls and reporting arrangements in place with regard to the Credit Committee, as well as a possible failure to act in line with legal requirements.
The inquiry today focused on the breach relating to the role of the Credit Committee at INBS, covering the period between July 2006 and September 2008.
Mr Fingleton, who is representing himself, was in attendance at the inquiry.
Mr Purcell also attended, and Michael Walsh wass represented by his legal team.
Neither Mr McCollum nor Mr McMenamin were at the inquiry today.
Brian O'Moore from Central Bank's legal team was addressing the inquiry for the majority of the day, outlining the Central Bank's investigation into Irish Nationwide in relation to this "suspected prescribed contravention".
He read out responses by Mr McMenamin, the former head of commerical lending at Irish Nationwide, to a questionnaire from the inquiry team dealing with the allegations.
Mr McMenamin denied the allegations made against him and pointed to the fact that much of the documentation sent to him was beyond his comprehension and that his fellow accused were "enormously more qualified" than he was.
Mr McMenamin said he was asked to move to commercial lending department in INBS in March 2001 and that his position was little more than an administrative officer, and that he was acting on the directions of Michael Fingleton, who was known as "The Boss".

He said he had "fundamentally no authority alone" to approve loans and no formal training in the area.
He said his only relevant training was a lending course taken in 1993.
The institution's former head of commerical lending in Ireland added in his statement to the inquiry that he "can't understand why Central Bank is wasting money" by sending people to him in taxis with documents, and delivering registered letters to him.

He described the inquiry as "unjust" and said in his communication he did not "propose to engage further in this inquiry".

He stopped replying to the inquiry's correspondence in July of this year.
The Central Bank's legal team also read out parts of a witness statement relating to today's discussed breach from former company secretary Stan Purcell.

In his statement, Mr Purcell denied his participation in any breaches of the INBS Credit Committee between July 2006 and September 2008.
He said he was not a member of the committee at any time and that Mr McMenemin and Michael Fingleton were the "most senior and permanent members" of the committee during the review period.
Parts of a statement from former chairman Michael Walsh - in which he said he was never a member of the credit committee - were also read.
Mr Walsh was also critical of the Central Bank for pursuing allegations against him
Last year Mr Fingleton said he objected to the inquiry because of ill health and ongoing litigation against him over borrowings of €6m owed to IBRC.
Parties to the committee were provided with more than 110,000 documents gathered in the course of the investigation, and soft copies of same will be used where possible.
The Central Bank has powers to impose sanctions of up to €500,000 on individuals in relation to any determinations made at the inquiry.