Online gambling company GVC Holdings is in talks to buy Ladbrokes Coral for up to £3.9 billion in a long-awaited deal that would transform it into a bastion of British betting.
GVC's bid marks the biggest wager yet by Kenny Alexander, who would become chief executive of the combined group, which is expected to be large enough to enter Britain's FTSE 100 index.
Since becoming chief executive a decade ago, the Scot has built GVC through a series of increasingly ambitious deals, including the £1.1 billion reverse takeover of Bwin.Party, growing it from an upstart gambling firm to a FTSE 250 business.
Alexander's latest acquisition would see GVC, which operates Sportingbet, Partypoker, and Foxy Bingo, swallow up the 130-year old Ladbrokes brand, as well as Coral and Gala.
It would also mark GVC's entry into British retail gambling through its acquisition of about 3,500 betting shops, making it the biggest player on the high street and competing with William Hill and Paddy Power Betfair.
Talks between GVC and Ladbrokes Coral, led by CEO Jim Mullen, have been "on and off" for about a year, Alexander said.
The two firms, whose previous unsuccessful deal discussions leaked in August, said in a joint statement they were in detailed talks over a takeover that would give Ladbrokes shareholders around 46.5% of the combined group.
Shares in Ladbrokes jumped by 26%, while GVC shares rose 6% on confirmation of the potential offer, which is for 32.7 pence in cash and 0.141 GVC share per Ladbrokes share.
GVC's move comes at a pivotal moment for the UK gambling industry, which is undergoing a government review.
The final price GVC pays will depend on the outcome of this review into fixed-odds betting terminals (FOBTs), which are big moneyspinners for companies like Ladbrokes but have come under fire for leaving gamblers with very heavy losses.
Following its so-called triennial review, the UK government said in October that the maximum stake allowed on FOBTs could be sharply cut over concerns they fuel addiction.
It started a 12-week consultation to consider cutting the stake to between £50 and £2, from £100 currently.
GVC's offer values Ladbrokes Coral at 160.9 pence per share, equating to a total equity value of around £3.1 billion, plus a contingent fee of up to 42.8 pence a share.
This means the bookmaker could be valued at as much as £3.9 billion.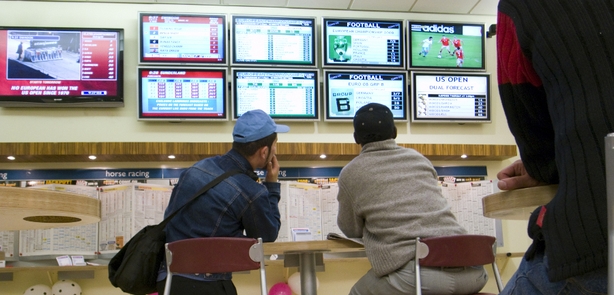 Alexander said the offer both "protects GVC shareholders" and "allows Ladbrokes Coral shareholders to get value for whatever the business may look" like following the FOBT consultation.
On November 2, GVC struck a deal to offload its Turkish business, which had been an obstacle in talks with Ladbrokes Coral because of the risks associated with operating in a country where many forms of gambling are banned.
Alexander said that talks with Ladbrokes Coral restarted in recent weeks after a deal structure was devised that could account for the different potential FOBT consultation outcomes.
Stricter regulation and higher taxation have hit betting shops in recent years and in 2015 prompted Ladbrokes to agree a merger with Coral and Paddy Power to tie-up with Betfair.
Alexander said buying Ladbrokes Coral would not leave GVC over-exposed to declining betting shops.
Based on results from the first half of 2017, he said that 56% of the enlarged company's earnings would come from digital and 38% from UK retail. The latter would fall as online grows, he added.
Stockbroker Davy said the deal made sense strategically, adding "it creates an online and retail gaming company of enormous scale and should lead to material synergies".