Euro zone finance ministers have chosen as their next chairman Portugal's Mario Centeno, a move that could embolden countries seeking deeper integration of the 19-country's bloc. 
Centeno, 50, will succeed Dutchman Jeroen Dijsselbloem on January 13.
He will chair monthly meetings of the Eurogroup, which comprises the finance ministers of the euro zone and is the European Union's most powerful economic policy-setting body. 
The Harvard-educated economist has led Portugal through a strong recovery from a 2011-14 debt crisis and a euro zone bailout programme. 
The economy is growing at its fastest pace in at least 10 years and the budget deficit is set to fall to its lowest in many decades. 
In May, Germany's then-finance minister Wolfgang Schaeuble compared Centeno to Portuguese soccer star Cristiano Ronaldo as Portugal was about to exit the EU's disciplinary procedure for running excessive deficits. 
"It is an honour to be the next chair of the Eurogroup," Centeno told a news conference. "We have a very unique time window to further prepare our economies and societies, are very much focused on that." 
His election was supported by France, Germany and Italy, the bloc's largest countries. 
He defeated in two rounds of votes three other candidates among the bloc's finance ministers - Dana Reizniece-Ozola of Latvia, Pierre Gramegna of Luxembourg and Peter Kazimir of Slovakia. 
He will take office in January as the euro zone prepares for a range of structural reforms that could substantially change the way the bloc functions and channel more common resources to tackle economic weaknesses in its members.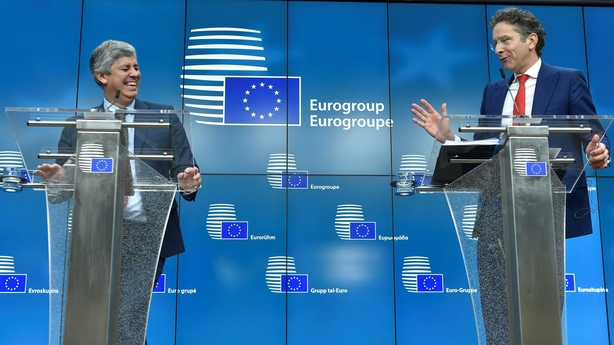 EU officials see the first six months of 2018 as the best moment to push through these difficult reforms, before Britain's exit form the EU, campaigning before European elections and a change of the European Commission in 2019 take the focus elsewhere. 
The European Commission will unveil a package of proposals on deeper economic integration of the euro zone later this week aimed at making the single-currency area more resilient to potential future crises. 
Centeno may play a role in favour of some of the most ambitious ideas, like a euro zone budget, French officials said. Germany has opposed this idea. 
He was appointed to Portugal's finance ministry in 2015 by Socialist prime minister Antonio Costa. He reversed some of the austerity measures introduced during the bailout. 
But he has retained a strong grip on public finances, insisting that EU budget goals must be met. 
Germany's acting Finance Minister Peter Altmaier said he backed Centeno because he "supports the stability and growth pact," which is the set of EU fiscal rules.
During his two and a half year term, Centeno will have a key role in coordinating efforts to deepen euro zone integration by establishing a euro zone budget and finance minister as well as a sovereign insolvency mechanism or transforming the euro zone bailout fund into a European Monetary Fund. 
He will also oversee the end of the third bailout programme for Greece in August 2018, after which the country is expected to fully return to finance itself on the markets.