Permanent TSB, which has reduced the size of its loan book, will not have to hold an extra buffer of capital from 2019 because it is no longer large enough to be considered a systemically important bank.
The move was announced as part of the Central Bank's annual review of macro-prudential capital buffers today.
Like other European banks, Irish banks identified as systemically important to the domestic economy due to their size and market share have to hold additional capital to increase their ability to withstand losses on their lending. 
The Central Bank began applying the new rules in 2015 and last year added Permanent TSB to its list.
It set the amount of extra capital the lender had to set aside at 0.25% of risk-weighted assets from July 2019, rising to 0.5% a year later.
Permanent TSB, the smallest of the three domestically-owned lenders which is more exposed to the cost of regulation than its rivals, completed a deleveraging programme last year by selling the remains of its mortgage book in the UK.
The Central Bank said it kept the mark for the other two larger domestic banks, AIB and Bank of Ireland, at 1.5%, to be phased in at a rate of 0.5% a year from July 2019. 
It also increased the buffer set to be applied to Citigroup by 2021 to 1% from 0.5% previously due to "its increased importance".
Citigroup shifted the head office of its European retail banking operation to Dublin from London in 2015. 
The buffers for Ulster Bank and UniCredit's Irish subsidiary, which is primarily involved in structured finance and treasury activities, were unchanged at 0.5% and 0.25% respectively.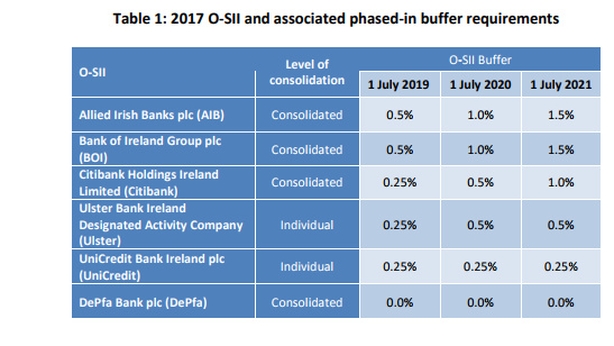 The buffers for Other Systemically Important Institutions (O-SIIs) can be set at between 0 and 2.5% and are aimed at protecting lenders from potential losses related to excessive credit growth.  
According to the Central Bank, the buffer's objective is to reduce the potential impact of a systemically important financial institution's failure on the economy.
The Central Bank said the it is a key element of its macroprudential toolkit.
The systemic importance of each lender was assessed based on the criteria of size, importance to the economy, significance of cross-border activities and interconnectedness with the financial system. 
The Central Bank said that consideration was also given to features of each bank's business model which might influence its importance to the domestic economy. 
The O-SII buffers are implemented in conjunction with the European Central Bank.