A new survey ranks Dublin in seventh position out of 31 European cities for real estate investment.
The latest PwC/ULI Emerging Trends in Real Estate Europe report sees Berlin take the top spot for real estate investment and development for the fourth year in a row.
The city is followed by Copenhagen and Frankfurt in joint second position, while Munich is in fourth place, Madrid in fifth and Hamburg in sixth.
The annual forecast is published jointly by the Urban Land Institute (ULI) and PwC.
It is based on the opinions of over 800 real estate professionals in Europe, including investors, developers, lenders, agents, and consultants.
Dublin had a ranking of 4th position last year and third the year before.
PwC said the report shows that Dublin is settling into a new phase as a "normalised, mature and safe market to invest in after years as an opportunistic investing story".
"The make-up of buyers is changing accordingly - less US private equity capital and much more institutional money, largely from Europe, especially from Germany, France, Switzerland and the UK," commented Joanne Joanne Kelly, PwC Ireland Real Estate leader.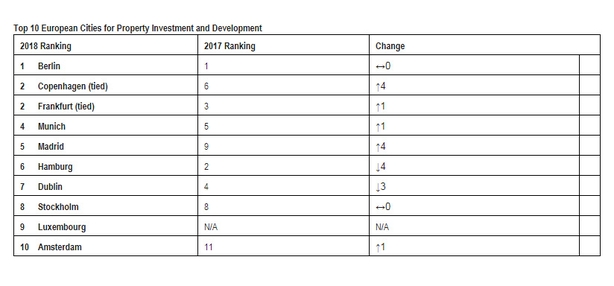 Today's report also shows that Dublin is universally viewed as one of the cities likely to benefit from Brexit.
PwC said that with its skilled local and English speaking workforce, Brexit will add another few years to demand for commercial property in Ireland, including attracting banks and financial services companies.
"However, concerns are noted about the potential negative effects if the UK were to go into recession as a result of Brexit, particularly on Irish tourism," it added.
But Dublin's infrastructure is viewed by respondents as not keeping pace with growth and is noted as another risk where more investment is needed.
The report also noted that Dublin needs more housing, with respondents seeing the private rented sector and student housing as a huge opportunity in the next three to five years.