The force of "Star Wars" lifted Walt Disney shares last night as the promise of a new film trilogy overshadowed disappointing quarterly results and struggles at the media company's television business.
The movie studio and theme park operator is scrambling to keep viewers who are abandoning its current top money maker, cable networks.
The power of its characters and brands are the reason many investors stick with the company despite its challenges.
Disney shares rose more than 1% after chief executive Bob Iger said Disney had struck a deal with Rian Johnson, director of upcoming film "Star Wars: The Last Jedi," to create a new trilogy in the blockbuster science fiction series.
A live-action "Star Wars" TV series also is being developed for a streaming service that Disney is launching to capture online audiences, Iger said.
Disney said that subscribers and advertising revenue both fell at ESPN, the sports powerhouse that is seen as a proxy for Disney's ability to fight the rapid migration of audiences to online viewing.
Affiliate revenue rose and overall results at ESPN were comparable to the prior year for the quarter that ended in September, Disney said.
Total revenue from Disney's cable business, the largest unit which includes ESPN and the Disney Channel, fell marginally to $3.95 billion in the fourth quarter, missing the $4.06 billion consensus of analysts polled by Thomson Reuters.
To address challenges in its TV networks business, Disney is developing family-friendly streaming services that it will sell directly to consumers to compete with Netflix and other rivals.
Building those businesses tops the company's agenda for the next year, Iger told analysts on a conference call.
"We believe creating a direct-to-consumer relationship is vital to the future of our media businesses, and it's our highest priority this year," he said.
New Disney releases will go to the company's own service rather than Netflix, starting in 2019, and Iger said the new service would be priced "substantially below" Netflix, a reflection of having less content.
Disney's sports-focused service will launch in early 2018 and will be called ESPN Plus, Iger said.
Investors remain concerned about Disney's cable business and were buoyed by the potential of the "Star Wars" franchise and the pricing of the streaming service, analysts said.
"The Last Jedi," hitting cinemas in December, could ring up $2 billion in global box office sales, he said.
Disney also held talks in recent weeks about buying some of Twenty-First Century Fox's film and TV businesses, according to media reports, which could bring Disney more content to compete with Netflix and others.
Disney did not comment on the Fox talks last night.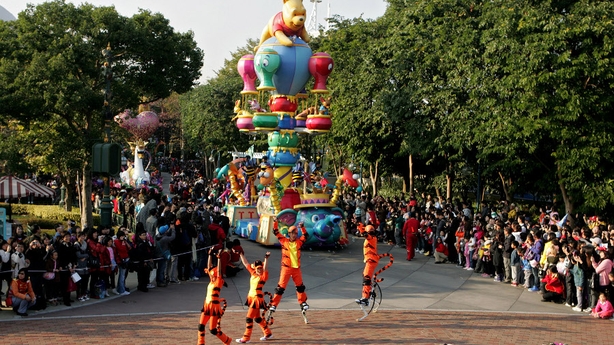 A two-day closing of Disney's Florida resorts amid a hurricane and the cancellation of an animated movie were among one-time items that reduced operating income by about $275m, or about 11 cents per share, the company said.
Disney's movie business generated revenue of $1.4 billion in the quarter, down about 21% and missing analysts' average estimate of $1.61 billion.
Broadcast revenue of $1.51 billion missed Wall Street's target of $1.69 million, and Disney's theme parks posted revenue of $4.67 billion, just missing expectations of $4.70 billion.
Disney's total revenue fell to $12.78 billion in the quarter ended September 30 from $13.14 billion a year earlier.
Net income attributable to the company declined to $1.75 billion from $1.77 billion. Excluding items, the company earned $1.07 per share.
Analysts on average had expected an adjusted profit of $1.13 per share and revenue to rise to $13.23 billion.