The European Commission has predicted that Ireland's GDP growth is projected to remain "robust" up to 2019, but that the pace of growth is expected to moderate slightly.
In its regular forecasts for the European Union economies, the Commission has pencilled in Irish GDP growth of 4.8% for this year.
Irish economic growth will then slow to 3.9% in 2018 and 3.1% in 2019, the Commission added.
The Commission said the activities of multinationals here continue to distort headline figures and
"complicate macroeconomic forecasts".
It said that while the Government deficit is moving closer to balance, risks to the country's fiscal outlook remain.
It also noted the strong increase in employment, particularly in full-time employment, which is expected to support the further increase in labour income up to 2019.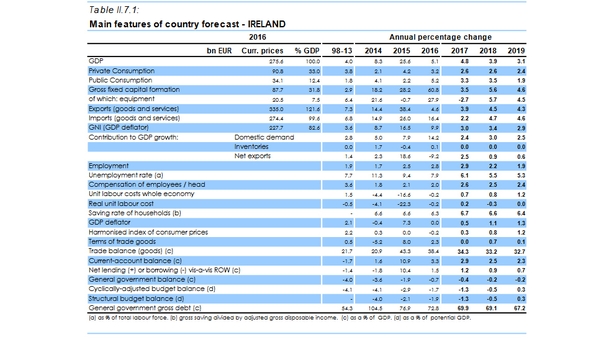 The European Commission also said today that the euro zone economy will grow at its fastest pace in a decade this year, sharply increasing its projections from earlier this year.
But the Commission added that the expansion will slow somewhat next year and in 2019.
The Commission said the economy of the 19 countries sharing the euro would grow 2.2% this year, up from 1.8% in 2016.
In May the Commission had forecast 2017 growth at 1.7%.
"The European economy has performed significantly better than expected this year, propelled by resilient private consumption, stronger growth around the world, and falling unemployment," the Commission said in a statement.
"Investment is also picking up amid favourable financing conditions and considerably brightened economic sentiment as uncertainty has faded," it said.
Growth in 2018 is to slow to 2.1% and to 1.9% in 2019, the Commission said.
Pierre Moscovici, the Commissioner for Economic and Financial Affairs, Taxation and Customs, said that after five years of moderate recovery, European growth has now accelerated.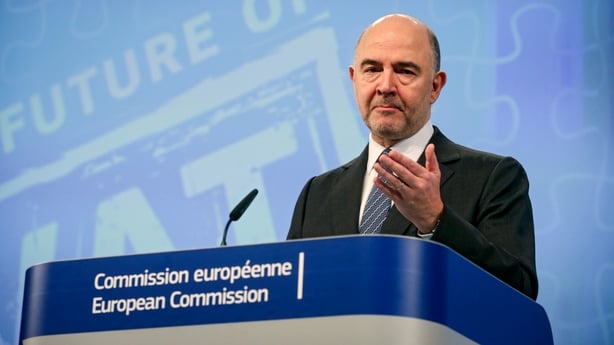 "We see good news on many fronts, with more jobs being created, rising investment and strengthening public finances," the Commissioner said.
But he added that challenges remain in the form of high debt levels and subdued wage increases.
"A determined effort from Member States is needed to ensure that this expansion will last and that its fruits are shared equitably. Moreover, structural convergence and the strengthening of the euro area are necessary to make it more resilient to future shocks and to turn it into a true motor of shared prosperity," he added.