The number of secondhand cars being imported into Ireland jumped by more than a third between January and October, when compared with the same period in 2016.
Latest figures from the Central Statistics Office show 77,734 imported used cars have been licensed here since the start of the year, a rise of 38.4%.
For the month of October alone, the number of secondhand private cars imported into Ireland were 23.9% higher than the same month in 2016, at 8,644.
The jump in imports over the past year or so is largely down to the fall in the value of sterling following the UK's vote to leave the European Union.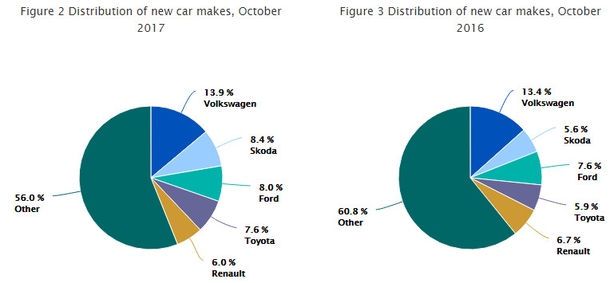 The pound has lost around 15% against the euro since Brexit in June 2016, making it much more lucrative to import cars from the UK into Ireland.
Today's CSO figures also show the number of new cars licensed in October fell by 15% to 3,255 when compared with the same month a year ago.
Overall, for the first ten months of the year the number of newly licensed private cars in is down 10.4% on the same time in 2016, at 124,850.
The drop-off in new car sales this year was to be expected, as 2016 was a record year for the industry.
Volkswagen, with 454 sales, was the most popular make of new private car licensed in October - followed by Skoda (274), Ford (260), and Toyota (247).