Royal Bank of Scotland raised income and cut costs in the third quarter to deliver a forecast-beating operating profit which lifted shares in the bank today. 
RBS said operating profit was £871m in the quarter, beating analysts' expectations as it grew income by 6% from the same time a year ago. 
Saved by a £45.5 billion bailout during the 2008 financial crisis, RBS reported its third consecutive quarter of profitability as it emerges from restructuring but still forecasts an overall loss this year. 
Analysts have said an expected settlement with the US Department of Justice over its alleged mis-selling of mortgage-backed securities during the financial crisis could be as much as £12 billion.
RBS has already set aside more than half of that figure as a provision for it. 
The bank's chief executive Ross McEwan said that while there had been no "substantial discussions" with or opening offer from the US Department of Justice, the bank remained hopeful it would reach a settlement this year. 
"There are only a couple of banks outstanding now and we do believe that time will come... We remain optimistic on that," he told reporters. 
Settling the case is seen by investors and analysts as a prerequisite for the British government to sell its 71%stake in the bank, and for RBS to resume paying dividends. 
Today's results were the first time that RBS had achieved three consecutive quarters of profit since 2014, McEwan said.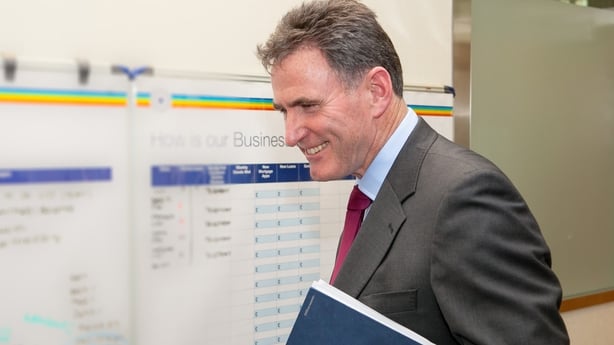 He added that the bank is on track to hit its financial targets, which include a return to profit in 2018 after more than a decade of losses. 
Meanwhile, RBS said that income at its Ulster Bank RoI division fell by 2.9% due to one-off items.
RBS reduced costs by £708m over the year to date, putting it on track to hit its target of £750m of cuts for the year.
But analysts, warned this might not last if any of the bank's legacy conduct issues derail its progress.
RBS also faces the possibility of further action from Britain's financial watchdog over the treatment of small businesses in its Global Restructuring Group (GRG) during and after the financial crisis. 
The Financial Conduct Authority on Monday published a detailed summary of a report into the unit, after customers alleged GRG pushed ailing firms into bankruptcy to pick up their assets on the cheap. 
The report outlined numerous failings and the FCA said it was investigating further, raising the possibility of action over an issue McEwan had hoped to settle via a £400m compensation scheme. 
RBS's investment banking unit Natwest Markets saw only a modest decline in income, representing a good performance in tough market conditions that saw rivals such as Barclays report tumbling trading revenues.