European Central Bank chief Mario Draghi today said the euro zone economy still relied on "an ample degree" of stimulus, even as it took a first step towards scaling back easy money measures.
While praising an "increasingly robust and broad-based economic expansion", Mario Draghi said price pressures remained "muted".
"Therefore an ample degree of monetary stimulus remains necessary for underlying inflation pressures to build up," he said at a press conference following a closely-watched meeting of the bank's governing council.
The ECB has in recent years taken extraordinary measures to push up growth and inflation in the euro zone.
It has set interest rates at historic lows, offers cheap loans for banks and is currently buying €60 billion a month in government and corporate bonds.
As the euro zone economy picks up, calls have grown for the ECB to begin unwinding its ultra-loose monetary policies, as the Federal Reserve is doing in the US.
The Frankfurt institution edged in that direction today when it announced it would reduce its monthly asset purchases to €30 billion from January.
The scheme, originally set to last until December, will now run at least until September 2018, the ECB said.
ECB's decision to cut monthly bond purchases from €60bn to €30bn from January immediately sent the euro lower - dropping from 89.3p to 89p pic.twitter.com/bv0RL9lQTy

— RTÉ Business (@RTEbusiness) October 26, 2017
In the wake of the ECB's announcement on scaling back asset purchases, the euro fell well over half a percent against the dollar to $1.1679.
With inflation still stubbornly low, Draghi was also eager to reassure investors the era of cheap money was not over yet and that the bank stood ready to tweak the asset purchasing programme, known as quantitative easing (QE), again if necessary.
"If the outlook becomes less favourable... we stand ready to increase the asset purchase programme in terms of size and/or duration," Draghi said.
But for now, he said the move to reduce bond buys reflected "growing confidence" that inflation was headed in the right direction.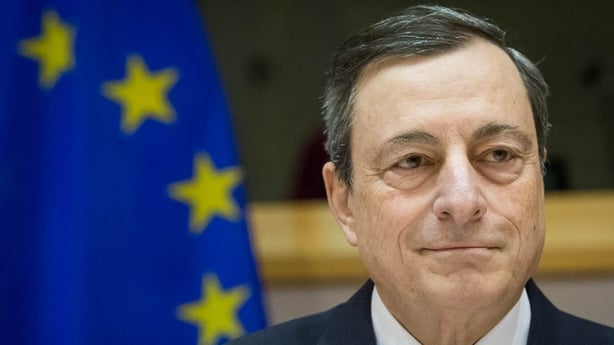 The ECB last month kept its inflation projection for 2017 unchanged at 1.5%, far off its target of just under 2% - seen as most favourable for growth.
Euro zone consumer prices are expected to rise by just 1.2% in 2018, and by 1.5% in 2019, according to the ECB.
The ECB's slow-motion move away from QE has been complicated by the euro's rise against the dollar in recent months, with cheaper imports keeping the lid on consumer prices.
The euro has risen by more than 12% against the greenback this year.