Deutsche Bank has today posted a rise in third-quarter net profit to €649m, despite a drop in investment bank revenue and a challenging market.
Germany's flagship lender said cost cuts helped lift profit despite a 10% drop in revenue as the bank undergoes a major restructuring.
The results beat analysts' expectations, who had forecast net income of €281m after €278m in the third quarter of last year, according to a Reuters poll.
"While the revenue environment remained challenging, we have made significant progress on our key initiatives," the bank's chief executive John Cryan said in a statement.
Deutsche Bank announced last March an overhaul that includes the integration of its Postbank retail bank unit with its own in-house Deutsche Bank-branded consumer bank, as well as the partial sale of its asset management unit.
"We are convinced that the benefits of our efforts will step by step become more apparent in the coming quarters and years," Cryan said.
Revenues at Deutsche Bank's cash-cow bond-trading division were 36% lower in the quarter due to decreased client activity in less volatile markets.
Deutsche's revenue lagged its US peers. The big US investment banks' bond trading revenues fell on average 22% from a year earlier.
Deutsche Bank has cited progress on both of its overhaul initiatives - the retail bank and the asset management unit.
In a separate press release on retail bank integration, the bank reiterated that it was on track to realise more than €900m in cost synergies by 2020 with an investment of €1.9 billion.
Deutsche Bank said that the two retail banks were likely to merge as a single legal entity by the second quarter of 2018, pending regulatory approval.
But battles with unions loom. They are threatening strikes over job cuts and the closure of bank branches.
On the asset management front, Deutsche Bank has asked banks to pitch for work on an initial public offering (IPO) of its asset management business that could raise around €2 billion.
Deutsche Bank said today that it was strengthening its asset management unit by integrating parts of its Sal Oppenheim subsidiary.
The bank has been recovering from multiple legal battles ranging from its role in the marketing of US mortgage-backed securities to a so-called "mirror trading" scheme that could be used for money laundering.
US authorities announced yesterday that Deutsche Bank had agreed to pay $220m to settle US regulatory charges that it defrauded government and nonprofit entities by manipulating Libor and other benchmark interest rates.
Deutsche Banks feels that it faces a major headwind that US competitors do not face - the European Central Bank's ultra low rates and cheap money.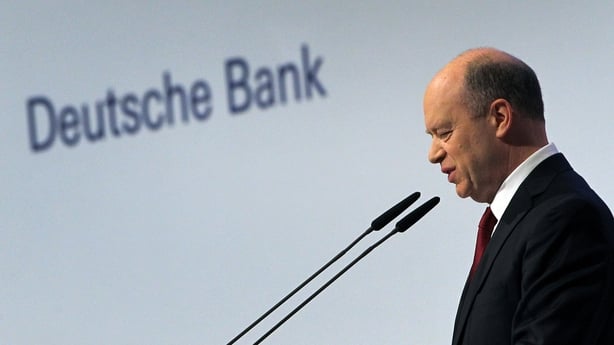 Last month Cryan called on the ECB to change course. "The era of cheap money in Europe should come to an end - despite the strong euro," Cryan told a room full of bankers.
Low interest rates, money printing and a penalty charge for hoarding cash have been at the heart of attempts by the ECB to reinvigorate the euro zone economy in the wake of the 2008-09 financial crisis.
But the ECB's policy has imposed a cost on still fragile banks, turning deposits into a hot potato that many would rather avoid so as not to pay charges to their central bank for storing them.