A new report shows that the majority of spirits consumed in Ireland (56%) are actually produced in Ireland.
The Irish Spirits Association has produced its first report on the spirits industry, which found that the number of licensed spirits producers in Ireland doubled between 2014 and 2016.
According to today's report, gin is the fastest growing spirits category among Irish consumers with sales up 31.6% last year.
However, vodka remains the country's most popular spirits drink, despite sales falling by a quarter in the past decade.
The Irish Spirits Association notes that while the Irish spirits market is "dynamic and rapidly-changing", the overall consumption of spirits in Ireland has fallen by 19.2% over the past decade.
But while consumption of alcohol falls at home, the value of Irish spirits exports increased by 6.1% last year to €805m.
Overall, the value of exports increased by 29% between 2011 and 2016, up from €624.27m to €805.33m.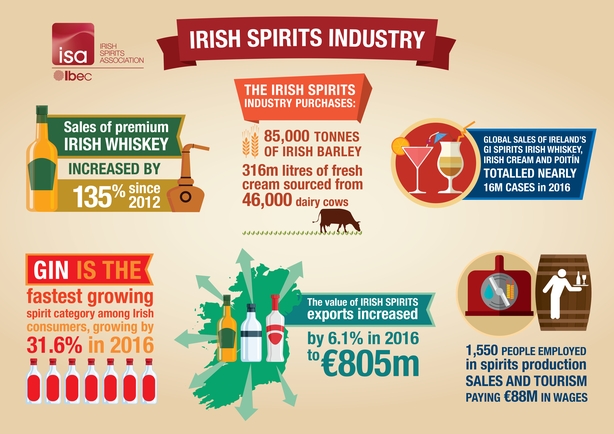 The ISA predicted that exports are set to grow by even more in 2017, with Irish gin exports expected to make a breakthrough.
Today's report found that Ireland's whiskey renaissance is going from strength to strength, with sales up 11.3% last year.
It noted that Irish whiskey is the fastest growing spirits category in the world, with sales of premium Irish whiskey up by 135% in the last five years.
The number of distilleries operating in Ireland has also grown from just four a few years ago to 18 now.
Meanwhile, after ten years of falling sales Irish cream liquor saw a return to growth last year.
A big contributor to the economy, members of the Irish Spirits Association employ over 1,550 people in spirits production, sales and tourism, paying €88m in wages.
The Irish spirits industry purchases 316 million litres of fresh cream from Irish farmers, sourced from 46,000 dairy cows.
85,000 tonnes of Irish malted and unmalted barley are also purchased by the Irish whiskey industry every year.