New research from property website Daft.ie shows that the value of homes at number 13 are typically €4,335 cheaper than the average Irish property of €241,000.
As part of its research, Daft.ie carried out regression analysis on almost one million Irish properties that have been listed on the site since January 2006.

The research also showed that since the start of the property price register in January 2010, Friday the 13th has occurred 13 times and on those days there are roughly 10% fewer transactions than regular Fridays.
Fridays are normally the busiest days of the week for house deals.

Ronan Lyons, economist at Trinity College Dublin & author of the Daft.ie report, said that we often think of housing markets as being simply about cold laws of supply and demand.
"But while these are the top-level forces at work, there are lots of quirks of human behaviour that affect any individual property or transaction," he added.

Daft.ie also found that 19% of consumers would try to avoid buying a property at number 13.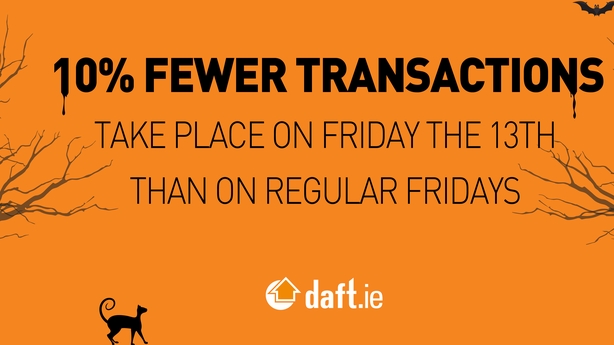 Martin Clancy from Daft.ie said that when it comes to superstition and property, triskaidekaphobia - the fear of the number 13 - appears to be having an impact on not just perceptions but actual property prices.
"Our research shows that properties at number 13 are 1.8% cheaper than the average Irish property, which could provide a saving to savvy house hunters with no superstitions", he added.