The Central Bank has raised its economic growth forecasts for this year and next, but cautioned that Brexit uncertainty remained a risk for the country.
In its latest quarterly bulletin, the Central Bank said the economy continues to grow at a "solid" pace on the back of strong growth in full time employment, incomes and consumer spending.
To this end, the bank has raised its GDP forecast for this year to 4.9% from 4.5%, while it has pencilled in growth of 3.9% for 2018, up from its earlier forecast of 3.6%.
The Central Bank predicted that the number of people in work will rise by 90,000 by the end of next year, while the unemployment rate will fall to 5.6%.
Today's quarterly bulletin also states that domestic demand is set to grow by 4.2% this year and 3.9% next year.
Export growth, meanwhile, is revised down slightly to 4.9% after weak contact manufacturing exports in the first half of the year.
The Central Bank noted that investment in building and construction continues to recover strongly with housing completions up by almost 32% in 2017 - albeit from a very low base.
But the bank cautioned that house completions are unlikely to reach initial projections of 18,000 units forecast for this year and 21,000 for next year.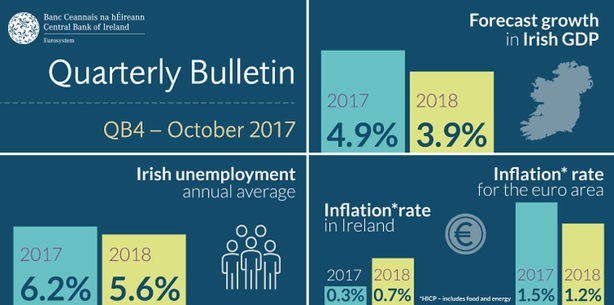 On inflation, the Central Bank said the current rate remains "subdued" and is the lowest in the euro area. This helps to underpin real household income and consumption, it added.
The Central Bank said that external demand for exports continues to look positive for this year and next.
But it noted that the recent strength of the euro against the dollar and sterling is likely to dampen exports somewhat.
The Central Bank's chief economist, Gabriel Fagan, said that the impact of Brexit so far has been "fairly muted" and mainly felt through the effects of a weaker pound.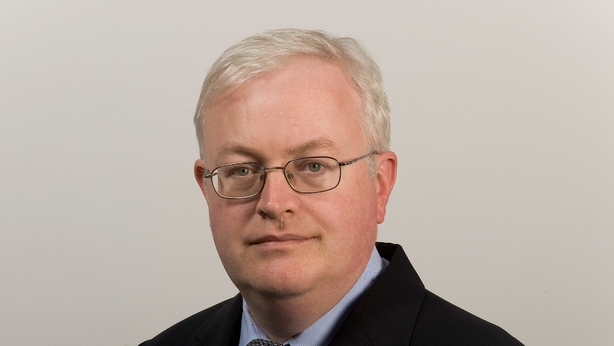 "Far from dampening consumer sentiment, Brexit is keeping the costs of any imported goods down," the economist said.
"Although this is good news for many Irish consumers, we must not underestimate the threat that Brexit poses to our longer term prosperity given our exposure to the UK economy," he cautioned.
Other risks facing the Irish economy include exchange rates and global economic and trading conditions.