UK budget airline EasyJet has reported record high summer sales as it benefited from struggles at rival Ryanair and forecast annual profits toward the upper end of expectations.
EasyJet said it expected headline profit before tax of £405-410m for the year ended September 30. It had given a range of £380-420m in July.
The update from EasyJet came as Ryanair offered its pilots significant improvements in pay and conditions in the wake of more than 700,000 flight cancellations that have hurt its reputation and share price.
EasyJet's performance also contrasts with the collapse of British carrier Monarch this week, the victim of tough competition from budget carriers.
"The current turmoil in the sector provides EasyJet with opportunities to capitalise on its strong customer proposition and grow and strengthen our positions in Europe's leading airports still further," Carolyn McCall, EasyJet's outgoing chief executive, said.
EasyJet has expressed interest in assets from Air Berlin and Alitalia, which have both entered insolvency proceedings.
There are also media reports that easyJet is interested in some of Monarch's slots at London's Gatwick airport.
The fall of some carriers could further strengthen the survivors, with analysts predicting an easing in pressure on ticket prices.
Lufthansa's chief executive said last month that the German airline group is set for a record year.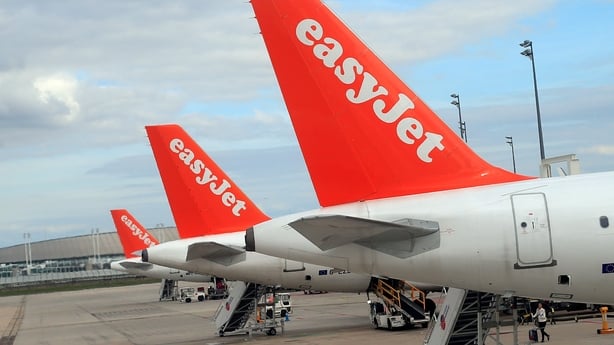 Data from travel company Skyscanner showed that traffic and prices had both spiked since Ryanair and Monarch's recent struggles, as customers seek to rebook trips at short notice.
Passenger numbers and load factor in the final quarter set new records for EasyJet.
However, the airline said there would be "continued pressure on yields reflecting ongoing market capacity growth", currently forecast at around 5% in the first quarter.