The chief executive of Ulster Bank has told an Oireachtas committee that the bank has now identified 3,500 tracker customers who were wrongly removed from their rate, up from an earlier estimate of 2,000.
Gerry Mallon was before the Oireachtas finance committee this morning.
Mr Mallon said Ulster Bank had originally identified 2,000 impacted customers, but this year a completed report for the Central Bank identified 3,500 affected customers.
Mr Mallon said Ulster Bank has contacted and returned existing customers to their tracker mortgage.
However, the committee was told that just 40 customers had been re-mediated.
Mr Mallon told the committee that less than 14 or 15 people had lost their homes as a result of the tracker controversy.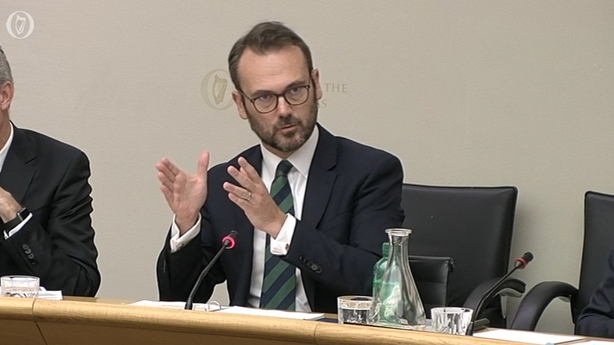 He told Fianna Fáil's finance spokesman Michael McGrath that he estimated the cases where customers had lost their homes as a result of the bank's fault would remain in the teens.
Mr Mallon also said it would be "well into 2018" before customers are re-mediated.
Sinn Féin's Pearse Doherty sharply criticised the length of time it took to put customers back on the correct rate and accused the bank of dragging their heels in paying back customers.
Mr Mallon said he apologised for the length of time the process was taking. He said there was no incentive for the bank to delay.
He said it was a complex process, involving manual calculation, and there were 200 staff working on it.
The committee was told that those who lost their homes as a result of the controversy had been given an initial goodwill payment of €50,000.
Fianna Fáil finance spokesman Michael McGrath has said the Central Bank needs to set out a clear deadline for the repayment to customers of overcharged interest and the payment of compensation.
Mr Doherty said the Central Bank should "step in, in a more demanding fashion".
Andrew Blair, head of customer debt solutions at Ulster Bank, told the committee that 900 customers, whose mortgages were linked to their family homes, had their loans sold to investment funds.
Senator Rose Conway-Walsh said people had got letters from so called vulture-funds telling them that they now own the mortgage, and this was "frightening the life out of them".
Mr Blair said of the 900 customers, 95% of them were more than two years in arrears, and 88% were more than three years in arrears.
"They were deep in the litigation process and non-cooperating and that's the basis which we elected to sell (the loans)," Mr Blair said.
Mr Blair said when customers come and talk to them, their primary aim is to keep the customer in their home.
He said they did not intend to dispose of loans where customers were cooperating, or where customers had low level arrears and were trying to make satisfactory arrangements with them.
In response to a question from Fianna Fáil Senator Gerry Horkan on how much compensation customers were due, Paul Stanley confirmed that some customers could be owed as much as €100,000.
"There are some customers who will have relatively low levels of compensation given the differentials while there are others who will be up to the €100,000 level," Mr Stanley said.
He told Senator Horkan he would supply the full details to the committee.