Tesco said it would resume paying a dividend for the first time in three years, with strong demand for fresh food and cost savings helping the retailer to lift its first-half profit by 27%.
Tesco has been battling to recover from a 2014 downturn when it lost the edge to rivals and uncovered an accounting scandal.
It reported a seventh quarter of underlying sales growth in its home market in a row today, having successfully navigated inflationary pressures.
Cost savings helped to push up the operating margin, to 2.7% from 2.2% last year, enabling it to reiterate its medium target for a 3.5-4% margin.
"Sales are up, profits are up, cash generation continues to strengthen and net debt levels are less than half what they were when we started our turnaround three years ago," Tesco's chief executive Dave Lewis said.
Tesco made an operating profit before one off items of £759m for the six months to August 26. That compares with £596m the same time last year and analyst forecasts of about £700m.
The group said its UK and Ireland underlying operating profits leapt 21.1% higher to £471m in the six month period.
Tesco, which in January agreed to buy wholesaler Booker for £3.7 billion, said UK like-for-like sales rose 2.1% in the second quarter.
Its Irish like-for-like sales grew by 1.1% in the six month period as the company said its customers here responded well to its continued price investment.
It noted strong volume growth of 3.6%, particularly in fresh food where volumes were up 5%.
An interim dividend of one pence will be paid which "reflects improved performance and board confidence."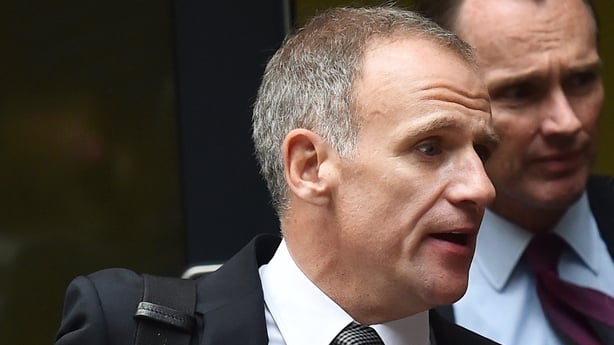 "Today's announcement that we are resuming our dividend reflects our confidence that we can build on our strong performance to date and in doing so, create long-term, sustainable value for all of our stakeholders," Dave Lewis said.
The resumption of the dividend is the strongest sign yet that Tesco has returned to a stronger footing, after changing shopping habits, the rise of German discounters Aldi and Lidl and a 2014 accounting scandal all combined to hammer the business and its share price.
After stabilising the company, Lewis has got it growing again with a focus on more competitive prices, new and streamlined product ranges, better customer service and improved supplier relationships.
The group also said today that it had concluded a triennial pension review and that its annual contributions would increase by £15m to £285m from April 2018.
Tesco said its net debt was down 25% to £3.3 billion in the six month period.