Property price growth in Dublin is continuing to outpace that in the rest of the country, according to the latest figures from MyHome.ie.
The figures show that in the year to September, asking prices in Dublin increased by 11.8% while in the rest of the country prices were around 9% higher.
The national asking price for a home rose from €214,657 to €227,954 in the third quarter of the year, today's report showed.
The author of today's report, Davy's chief economist Conall Mac Coille, said the acceleration in asking prices which began in late 2016 has continued through 2017 and is likely to continue during 2018.
"At the start of the year we predicted double-digit growth in house prices for 2017 but due to the strength of asking price inflation in Q3 we are predicting that double digit inflation is also likely to persist through 2018," the economist said.
Mr Mac Coille said there was a number of reasons why house prices are rising so strongly, including the lack of supply, the economic recovery and the fact household incomes are now rising by 2-3% a year.
But he said the main factor driving house prices higher has been the mortgage market.
He pointed out that the average loan drawn down by first-time buyers in the last quarter was up 9.4% in the year to €200,000 from €183,000 in the middle of last year.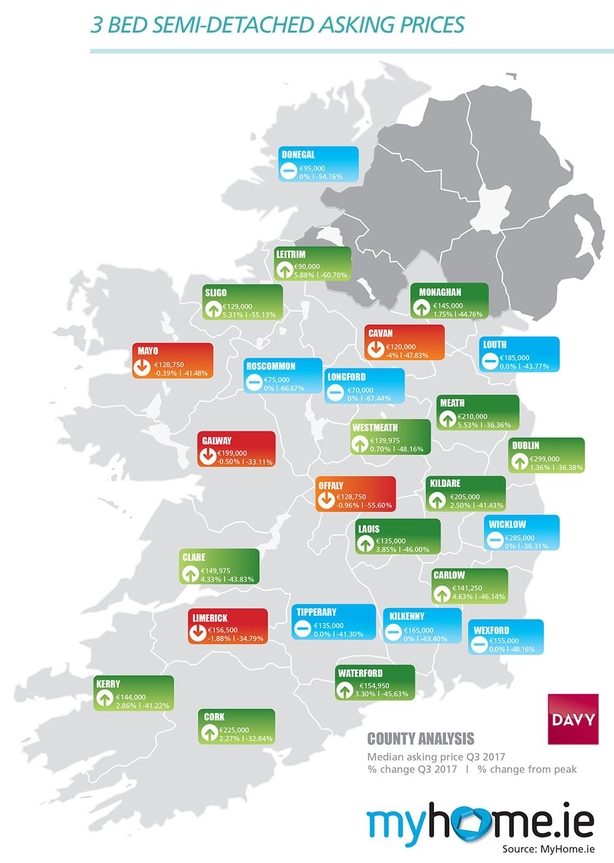 "This has meant that leverage on new mortgage loans has increased and with ever more desperate buyers seeking larger loans as they compete for the few properties listed for sale, this trend is set to continue and to ensure inflation remains at double-digit level," he stated.
Meanwhile, the Managing Director of MyHome.ie, Angela Keegan, said the lack of supply would underpin rising prices for the medium term.

She said that at the end of the third quarter of this year, there were just 21,424 properties listed for sale on the company's website.
This is down 6.5% on last year and represents just 1.1% of the total housing stock of two million homes.
"The situation improved slightly in Dublin where the number of properties for sale rose by 3.3% to 4,275. However this represents an even smaller total of 0.9% of the housing stock in the capital," she added.