The country experienced the largest growth in its population since 2008 in the year to April 2017, new figures from the Central Statistics Office show. 
Ireland's population grew by 52,900 in the year to April to hit 4,792,500, the latest CSO estimates show.
The CSO also said the country saw the highest level of net inward migration since 2008.
The number of immigrants in the year to April is estimated by the CSO at 84,600 while the number of emigrants leaving Ireland is estimated at 64,800 - resulting in a net inward migration of 19,800. 
Of the people who immigrated to Ireland, 32.4% were returning Irish nationals, the CSO noted, while 47.5% of people who emigrated were Irish nationals.
The CSO also said that net outward migration of Irish nationals in 2017 sank by over 88% from 2012 when outward migration peaked at 29,600.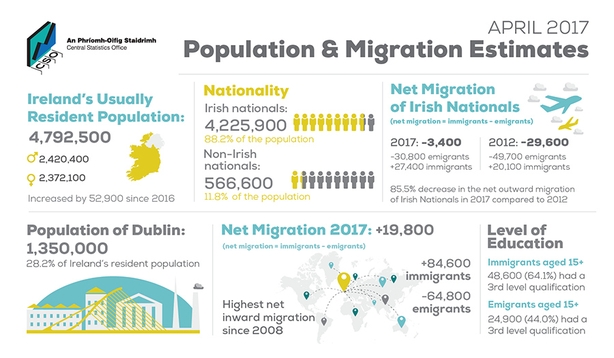 Today's CSO figures show that number of births in the year to April was 63,900, while the number of deaths was 30,800 - resulting in a natural increase of 33,100. 
"The effect of this natural increase and positive net migration resulted in an overall increase in the population of 52,900," commented the CSO's James Hegarty.
"This is the largest annual increase in the population since 2008, bringing the population estimated to 4.79 million in April 2017," he added.
Commenting on today's "exceptional" figures, KBC Bank Ireland's economist Austin Hughes noted that Ireland's 1.1% population growth rate at present is nearly four times the current EU average of 0.3%.
"The key drivers of Ireland's demographic dynamics are a comparatively large number of births relative to deaths as well as a much greater variability in migration than in most other countries due to the particular sensitivity of Irish migration flows to domestic economic conditions," he added.