Insolvent German airline Air Berlin said there were good prospects of repaying a government loan and for 80% of its staff to secure jobs if bids for parts of its business from Lufthansa and EasyJet go ahead. 
Air Berlin, which has around 8,000 employees, filed for insolvency in August after major shareholder Etihad said it would stop providing funding. 
The German government stepped in with a €150m loan to prevent the airline being grounded so that talks could be held on selling its assets. 
Germany's second largest airline said today that Lufthansa's bid was for units including leisure airline Niki and regional carrier LGW plus other parts, while EasyJet had bid for parts of the fleet.
"We are on the way to giving around 80% of our colleagues a good chance of new jobs with the bidders," Air Berlin CEO Thomas Winkelmann said in a statement. Talks are due to continue until October 12. 
A source has said Lufthansa's bid is for around €200m, plus a further €100m to meet operating costs during a transition phase. 
Air Berlin said the parties had agreed not to disclose the purchase price. It hopes the EU will approve the carve-up by the end of the year. 
Administrator Frank Kebekus said flight operations had to be kept stable to bring talks to a successful conclusion, repeating comments made after the airline's operations were hit by a wave of sickness-related absences among pilots earlier this month. 
However, Air Berlin said it was halting long-haul flights from October 15 after lessors recalled planes. 
It is also stopping flights from Munich to Hamburg and Cologne/Bonn from September 29 and said more would follow. 
Lufthansa shares rose to their highest level since early 2001, on hopes it would pick up some of Air Berlin's most attractive assets and strengthen its position in Germany. 
Lufthansa has said it expects to take on 3,000 new employees to grow as a result of the gap left by the Air Berlin insolvency. 
Lufthansa's budget unit Eurowings today extended a recruitment drive, saying it now had over 1,000 open positions, including for 300 pilots, 500 cabin crew and more than 200 ground staff jobs. 
Earlier, Aer Lingus and British Airways parent IAG put in a bid for part of insolvent German airline Air Berlin but expects it will go mainly to Lufthansa, CEO Willie Walsh said at a conference in Barcelona.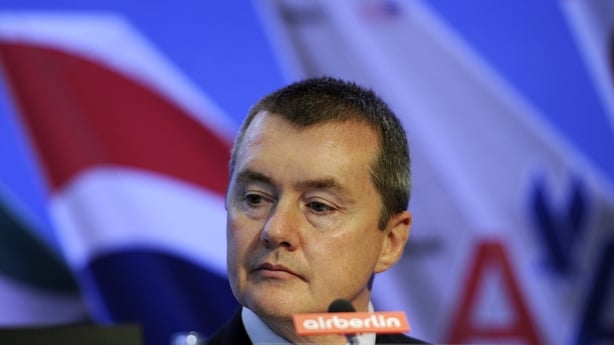 Air Berlin, which filed for insolvency in August, said last week its creditors had picked Lufthansa and EasyJet as possible buyers and would negotiate with them until October 12.  
"We put in a binding bid for part of Air Berlin, but I don't think it comes as any surprise that Lufthansa is going to get it," Willie Walsh was quoted as saying at the World Routes conference. 
"From every angle, it looks like it was designed to facilitate Lufthansa but we'll wait and see. We haven't heard anything official yet," he further said. 
A large part of Air Berlin's assets look set to go to Lufthansa, which is bidding around €200m for units including leisure airline Niki and regional carrier LGW, a source has said. 
Lufthansa boss Carsten Spohr said last week the carrier was interested in up to 78 planes, with the focus on 38 crewed aircraft it already leases from Air Berlin.