Nestle has bought a majority stake in California-based Blue Bottle Coffee, marking a first step by the packaged coffee leader into the world of speciality bars that serve high-end, single-origin and cold brewed coffees.
Blue Bottle Coffee is headed up by Irishman Bryan Meehan. 
Nestle, the company behind Nescafe instant coffee and Nespresso brewers, announced the purchase of a 68% stake of Blue Bottle without disclosing financial terms. 
The price was around $425m, according to a source familiar with the matter. 
Like last week's purchase of Sweet Earth meatless foods, the deal sees the world's biggest maker of packaged food reaching out to the kind of choosy consumers who are turning away from its mass market brands like Nescafe coffee and frozen pizza. 
It is the fourth deal this year by Nestle's new chief executive Mark Schneider.
He was an external hire brought in last year to shake up a conservative Swiss company that had missed its sales targets for four years running. 
Nestle and its multinational peers are fighting slower emerging markets, competition from new brands and a shift in consumer tastes away from processed food. 
The company is also selling its US confectionery business, which includes brands like Baby Ruth and Butterfinger, as it seeks to transform itself into a "nutrition, health and wellness" company. 
Blue Bottle Coffee was established in the early 2000s and operates cafes in a number of US cities. It also offers its a subscription service for its coffee beans.
Dubliner Bryan Meehan led an investment in Blue Bottle back in 2012 and is currently the firm's CEO.
Nestle, Europe's biggest company by market value, is under pressure too from activist shareholder Third Point.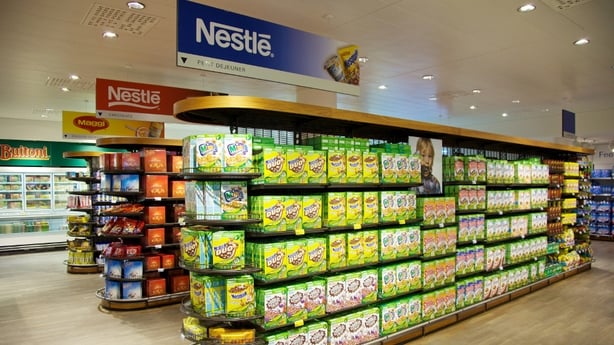 The US hedge fund announced a $3.5 billion stake in June and pressed Nestle for actions such as a margin target and divesting its 23% stake in France's L'Oreal. 
The US market for coffee drinks has retail sales of $2.9 billion, according to Euromonitor International, which forecasts it to reach $4.4 billion by 2021. 
"Starbucks has for a long time had a virtual lock on this category, but that lead is starting to slip," said Euromonitor analyst said Matthew Barry. 
Nestle's purchase also comes amid consolidation in the so-called third-wave coffee sector in the US. 
This market caters to mostly young, urban customers who have grown up on Starbucks but have progressed to more exotic drinks coaxed from hand-operated espresso machines or non-traditional brewers by expert baristas. 
Rival third-wave chains also include Intelligentsia and Stumptown, which were swept up in the recent coffee acquisition spree by privately held JAB Holdings.