The Government is considering repurposing NAMA into a development agency that could deliver housing on behalf of the state and help ease a major supply problem, Taoiseach Leo Varadkar said today.
A severe shortage of housing combined with surging demand has caused house prices to rise sharply, pushed residential rents in cities above 2007 peaks and led to a surge in homelessness.
The National Asset Management Agency, which was set up in 2009 to rid local banks of loans related to the property crash, has almost repaid the more than €30 billion it borrowed to purchase the risky loans.
NAMA was tasked in 2015 with building 20,000 new homes on its sites, as well as developing a major new business district on Dublin docklands.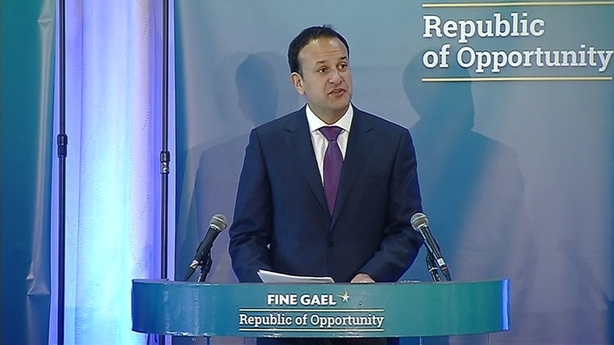 Speaking at a meeting of the Fine Gael parliamentary party in Clonmel, Co Tipperary, Mr Varadkar indicated that the agency may have a further role to play as the state seeks to increase the construction of social housing from current low levels.
"We are examining the possibility of repurposing NAMA to develop plans on behalf of the state and step in where the private sector has failed," Mr Varadkar said.
He also said that the Government would shortly announce changes to planning regulations that would make it more affordable to build apartments.
The Government has pledged to double housing output to 25,000 by 2019 but some analysts say as many as 50,000 units could be needed a year to make up the current deficit.
Census data in April suggested that official figures for housing completions overstate the true level of homebuilding.
Meanwhile, the Chief Executive of the Housing Agency has said now is not the time to introduce new structures to the housing market.
Conor Skehan was speaking on RTÉ's Six One as Taoiseach Leo Varadkar had earlier said the Government is looking at re-purposing the State-controlled bad bank NAMA to develop land for building, on behalf of the State.
Mr Skehan said while NAMA has proven itself to be a capable institution, there is no need to take precipitous actions.
He said providing new buildings and a supply-led solution is not the answer.
He said making housing become affordable is key, which he says means dealing with vacancies, obsolescence and reform of the rental market.
He said the focus should not be on social housing.
"What we need to be giving attention to is the other 85 percent of market. They are the people who are as we speak reenergising our housing sector.
"The real advice if we were asked is for everybody to just settle back and allow the processes that are well underway to continue without confusing the market by introducing new structures."
Mr Skehan urged that Ireland is in a pattern of recovery, at which point there is a tendancy to worry that there will be no solution to the housing crisis.
He said leaders should not take precipitous actions, in response to lobbying groups seeking to pursue agendas.
"This always happens that people panic and think that the solution isn't going to come quickly enough," he said.
He added: "The real trick and the leadership that is required at this stage is not to take precipitous actions.
"The seeds of every single housing crisis begin at this recovery stage of the previous one; where people give in to various different lobbying groups who are seeking to pursue their agendas."
Government looking at "untapped potential" of NAMA
Minister for Education, Richard Bruton, has said that the Government is looking at the possible "untapped potential" of the National Asset Management Agency.
Speaking at the Fine Gael party think-in in Clonmel, Co Tipperary, Minister Bruton expanded on comments made by the Taoiseach earlier in the day that NAMA may be repurposed to drive housing supply.
Minister Bruton said there had been "acute problems" in the processing of getting homes to market, including financial and planning.
"We have in Nama an agency with significant experience in this," he said.
Minister Bruton said there wasn't a detailed plan to present but that the Government was "looking seriously" at whether the agency could assist.
"The Government is looking at its potential which has perhaps been untapped," he added.