European Central Bank President Mario Draghi has said the bank will discuss how to start winding down its asset purchase programme - better known as quantitative easing - next month.
Strong growth and falling unemployment across the euro area has increased speculation that the ECB will begin to taper down its monthly purchases of government and corporate bonds from January onwards.
However Mr Draghi stressed the ECB will leave interest rates unchanged "well past the horizon of our net asset purchases".
Mr Draghi said inflation was not sufficiently robust and self sustaining to start increasing rates again.
The ECB has slightly marked down its inflation expectation for the end of this year due to the strength of the euro and weaker than expected oil prices.
It said it expects inflation this year of 1.5%, 1.2% next year and 1.5% in 2019 - the latter two are down 0.1% on June's forecast. The ECB's inflation target is "close to but less than 2%".
Mr Draghi said the strong euro was "a source of uncertainty which requires monitoring", but as usual he declined to comment on what an appropriate exchange rate against the dollar should be.
Asked about the negative impact of the ECB's quantitative easing programme, Mr Draghi said there was no negative impact.
The programme has been credited with turning around the euro area's growth prospects and staving off the treat of deflation.
The ECB President said there were negative effects from the zero and negative interest rate policy, but these were more than offset by positive impacts on growth, jobs and financial stability.
The ECB left its key policy rate unchanged at 0%, and the deposit rate at -0.4%.
The ECB expects growth in the euro area to be 2.2% this year - the highest in ten years - while growth of 1.8% and 1.7% are forecast for 2018 and 2019.
In June it had expected growth of 1.9% for this year.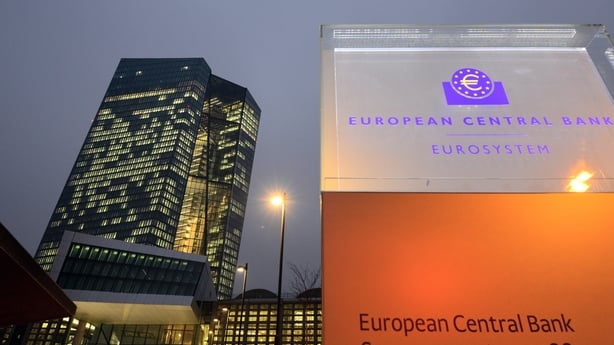 Mr Draghi said the recovery in the euro area was having "a profound effect" on employment, with 6.5 million jobs created since 2015.
This, he said, was closing the output gap and reducing labour market slack.
But he alluded to ECB research showing labour market slack is bigger than conventionally estimated, leading to a slower rate of nominal wage growth than would have been expected (which has in turn held back inflation growth, the key measure for ECB policy).
He said the bigger than expected slack and depressing effect on wage growth was caused by a range of factors, including a trade union policy that prioritised jobs over wage rises, low productivity, and the rise of global supply chains.
He said reforms of labour markets should avoid the dual structure seen in many countries that had given rise to a very protected sector of the workforce, and a very precarious sector, adding that the recent crisis had fallen disproportionately on the young, who had the least protection under dual labour market systems.
Eliminating duality should be the target of labour market reforms, Mr Draghi said.
He said he was confident that "in the end" the inflation rate will converge on the ECB's 2% target, but getting there required "confidence, patience and persistence".
He said "nothing will derail the will of the governing council to get there (2% inflation)", adding that all countries had benefited from the ECB's monetary policy, a comment directed particularly at German media.