New figures released today show that new car registrations for the month of August slowed by 21% to 5,754 compared to the figure of 7,297 the same month last year.
The Society of the Irish Motor Industry (SIMI) figures show that new cars registrations so far this year are down 10% on the same time last year - down to 124,711 from 138,504.
However, used car imports rose by 31% in August of this year to 8,451 from 6,472 last year, while they are 40% higher so far this year.
Meanwhile, light commercial vehicles (LCV) registrations are down 23% in August and year to date are down 14%.
And sales of new heavy commercial vehicles (HGV) are 18% lower for the month of August and are down 14% so far this year.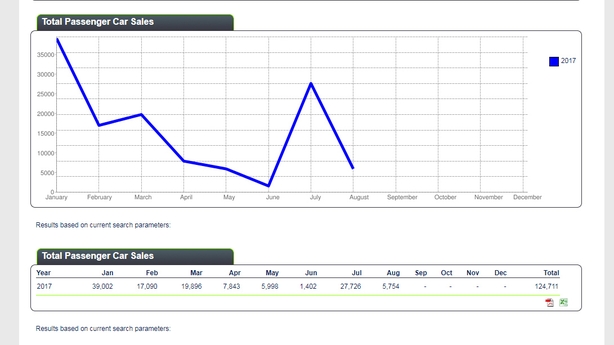 Today's SIMI figures show that the top five selling car brands so far this year are Volkswagen, Toyota, Ford, Hyundai and Nissan.
Meanwhile, the Hyundai Tucson, the Nissan Qashqai, the Volkswagen Golf, the Skoda Octavia and the Ford Focus were the five top selling models last month.
SIMI's deputy director general Brian Cooke said that the car industry continues to experience a direct impact from Brexit in the market place and he urged the Government to make "no negative decisions" in Budget 2018.
"Ahead of Budget 2018 our message to the decision makers is simple with this declining market there should be no negative taxation decision in relation to VRT, road tax, or fuel," Mr Cooke said.
"The industry is focused on offering alternative fuel solutions and the Government can encourage customers to avail of these through a variety of incentives," he added.