New figures from the Central Statistics Office show the national average commuting time in April 2016 was 28.2 minutes, up from 26.6 minutes in 2011.
The figures from the CSO's Census 2016 Commuting in Ireland research show that commuters in counties bordering Dublin had the longest average commuting time, with those in Meath and Wicklow travelling for almost 35 minutes.
Almost 200,000 commuters - or one in ten - spent an hour or more commuting to work in April 2016, an increase of almost 50,000 (31%) on 2011.
Laytown-Bettystown-Mornington, where 28% of 4,565 workers were commuting an hour or more, had the highest percentage, followed by Skerries (1,092) and Greystones-Delgany (1,855).
Meanwhile, the number of people working in Dublin city and suburbs surpassed the half a million mark in 2016, with a daytime working population of 512,449, an increase of 9% on 2011.
Excluding mobile workers, Dublin city and suburbs accounted for 29% of the State's workforce.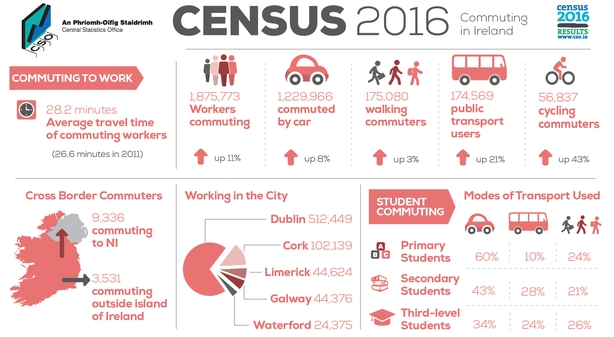 Overall, the number of people travelling to work, school or college nationwide stood at 2,962,550 in April 2016, an increase of 9.3% on the 2011 figure.
The CSO said that 1,875,773 people commuted to work in April 2016, up 10.7% on 2011.
There were large increases in bus and train use - up 22% and 19.7% respectively - while the number cycling to work rose by 43% on 2011.
But cars remained the most common mode of transport for workers and in April 2016, 65.6% (1,229,966) of those commuting to work either drove or were passengers in a car.
Today's CSO figures also show that 94,955 people were working "mainly at or from home" in April 2016, an increase of 14%.
Over 174,000 workers stated that they had no fixed place of work, up 26,000 (18%) on 2011.