The US dollar dropped to its lowest in roughly 16 months against a basket of major currencies today.
The greenback hit a more than two and a half year low against the euro, following comments from Central Bankers on Friday and worries over Tropical Storm Harvey.
The greenback extended losses after tumbling on Friday after US Federal Reserve chair, Janet Yellen, did not mention monetary policy at a summit of central bankers in Wyoming.
That was interpreted as moderating expectations the Fed will raise interest rates further this year.
European Central Bank President Mario Draghi's decision to hold back from talking down the euro at the central bankers' meeting in Jackson Hole continued to weigh on the dollar.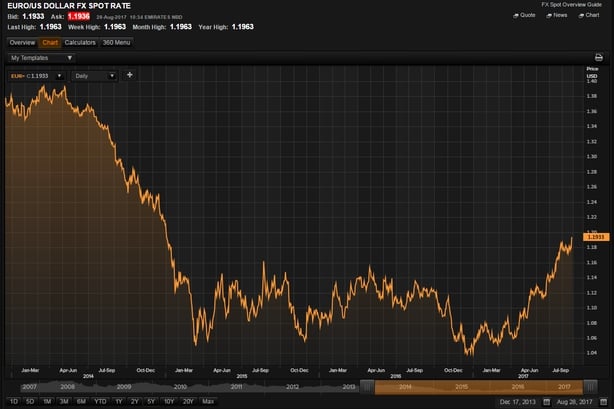 That saw the euro hit $1.198 on Monday, its strongest against the greenback since January 2015.
The dollar also weakened after Tropical Storm Harvey paralysed Houston, Texas, the nation's fourth-biggest city.
Concerns are growing about the storm's potential impact on the US economy.
The dollar index, which measures the greenback against a basket of six major rivals, hit its lowest since May 2016.
A public holiday in global foreign exchange capital London kept the market subdued.
While hitting multi-month lows, the dollar index was last down only 0.4% and the euro was up just 0.2%.