Sterling has move back towards an eight-year low against the euro, having recovered slightly in trade earlier today.
The euro broke through the 92-pence barrier yesterday morning, reaching 92.3 pence at one point - its highest level since October 2009 and more than 20% above its pre-Brexit value.
This morning sterling recovered somewhat, moving back around the 92-pence mark, before returning close to 92.3p during evening trade
Immediately prior to the Brexit vote in June 2016, one euro was valued at 76.5 pence, however, straight after the referendum sterling devalued by around 15% against the euro.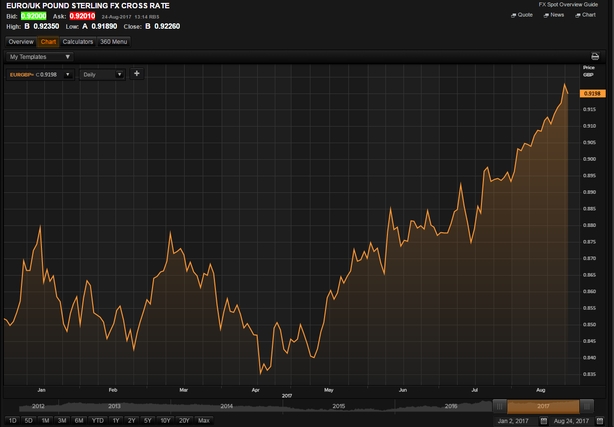 The tourism sector as well as Irish companies exporting into the British market have been worst hit by the massive shift in the exchange rate.
Irish exporters would be mostly paid in pound so lose out when converting back into euro.
Meanwhile, the pound fell to a new two-month low against the dollar today as the lack of any major economic data encouraged investors to add bets against the British currency.
"We have been quite bearish about the British pound for some time and I think this trend is justified given its worsening fundamentals such as a widening current account deficit," said Thu Lan Nguyen, a FX strategist at Commerzbank AG in Frankfurt.
Sterling is flat at $1.2794, its weakest since late June.
On a monthly basis, it has fallen nearly 3% so far this month and is set for its biggest monthly decline since October 2016.
Apart from that level reached during a short-lived overnight "flash crash" in October, that was its weakest in eight years.
The government is striving to move forward the formal discussions on leaving the European Union with a series of position papers that have outlined potential compromises over some of the issues likely to block progress this year.
Britain yesterday outlined several escape routes from the "direct jurisdiction" of the European Court of Justice after Brexit, one of Prime Minister Theresa May's key aims in talks to unstitch 40 years of EU membership.
Morgan Stanley strategists said the British economy may lose growth momentum as the government's failure to define its Brexit target creates investment uncertainty.