Irish business sentiment improved notably in the summer months, according to the latest index from KBC Bank and Chartered Accountants Ireland.
It was the strongest reading in six quarters, suggesting the recovery is continuing to broaden and is reaching more sectors and companies.
The business sentiment index for the second quarter rose to 118, from 110.6 three months earlier.
The latest increase marks the fourth consecutive quarterly gain which means the index has recovered to levels seen before the UK Brexit vote or the increase in uncertainty about US policy intentions
But sentiment is still notably softer than the recent series peak of 131.1, recorded in late 2015.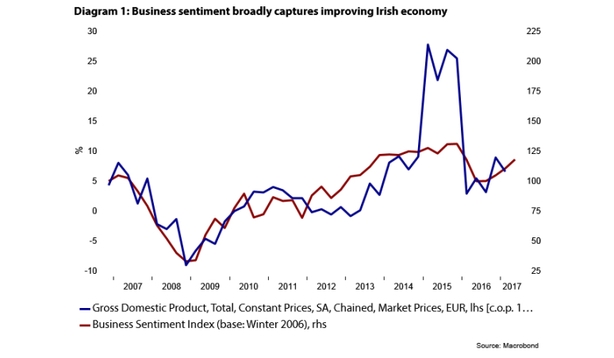 According to the research, about eight in ten business leaders surveyed now say they have a sense of the likely impact Brexit will have on their operations and about half of these are already taking action to deal with it.
Firms are cautious about taking on new staff but they are laying off fewer staff in general.
There was also a marked drop in negative views on the economy, particularly from firms in sectors such as food, manufacturing and construction that might have been more focused on emerging threats to the recovery over the past year or so.
In contrast, for businesses focused on consumers, responses were primarily driven by a marked increase in positive views that likely reflects a strengthening trend in consumer spending.