The damage inflicted on world stocks this week by the escalating war of words over North Korea topped $1 trillion.
Investors have taken cover in the yen, the Swiss franc, gold and government bonds. With European shares down for a third day and Wall Street set to fall again, global stocks were on course for their worst week since Donald Trump won November's US presidential election.

Now installed in the White House, Trump issued a new warning to Pyongyang on Thursday that his previous promise to unleash "fire and fury" may not have been strong enough. North Korea had responded with a threat to land a missile near the US Pacific territory of Guam.

Japanese markets were closed for a holiday but the yen powered on, hitting an eight-week high of 108.91 yen to the dollar, adding to its biggest weekly gain since May.

The yen tends to benefit during times of geopolitical or financial stress as Japan is the world's biggest creditor nation and there is an assumption that Japanese investors there will repatriate funds should a crisis materialise.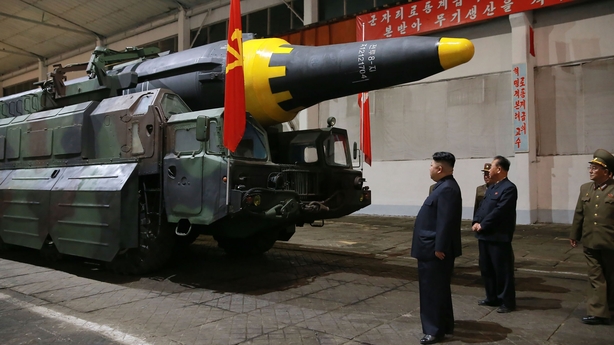 The Swiss franc, the other traditional safety-play among currencies, has benefited too. Two weeks ago it saw its biggest weakly fall against the euro since the start of 2015. This week has seen its biggest rise since June 2016.

And in bond markets, 10-year US Treasuries and Germany's ultra-safe government bonds, known as Bunds, were trading at their highest prices since June.

The market's perceived backstop safety asset, gold, edged up to its latest two-month high of $1,288 an ounce. It soared over 2% in the previous two sessions, and is set for a weekly gain of 2.25%.

Crude futures meanwhile extended losses on fears of slowing demand and lingering concerns over global oversupply.
US crude was down 0.9% at $48.16 per barrel, on track for a weekly loss of 2.9%. Global benchmark Brent also fell 0.9% to $51.44, after Thursday's 1.5% drop. It is poised to end the week down 1.9%. Copper, the bellwether industrial metal, was set for its first weekly drop in five weeks.