Residential property prices outside of Dublin are growing at a faster rate than they are around the capital, new figures from the Central Statistics Office for the month of June show.
Continuing a recent trend, property prices in the Rest of Ireland (i.e. excluding Dublin) were 11.8% higher in the year to June, with the increase for Dublin 11.1% over the same period.
The South East region showed the greatest house price growth, with a yearly rise of 16.7%, while the Mid West had the slowest growth, at 8.4%.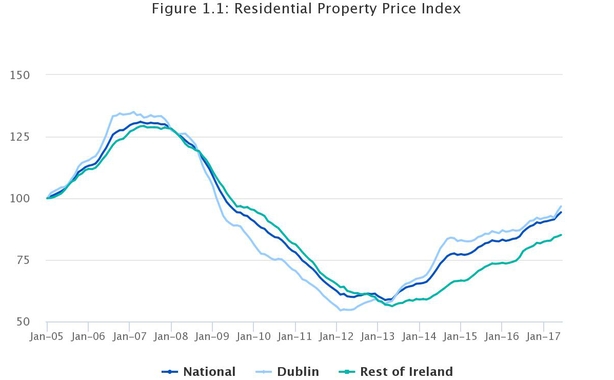 In Dublin, house prices rose by 11.2% in the year to June, and apartment prices showed a 10.6% increase.
From their post-crisis low in early 2013, Irish property prices have risen by more than half (58.4%). During this time Dublin prices have jumped by 73.8%, while the increase for the Rest of Ireland has been 50.4%.
However, property prices in the capital are still nearly a third lower (29.9%) than they were at their highest point in 2007, and prices in the rest of the country remain 34.6% below their May 2007 peak.
Commenting on the figures, Davy's Conall MacCoille said: "Today's Residential Property Price Index (RPPI) shows a sharp 1.4% gain in June.
"Annual inflation is now running at 11.6% – the fastest pace in two years.
"This marked acceleration in Irish house price inflation reflects underlying pressures from the robust economic recovery, accentuated by rising leverage on mortgage lending and raised expectations for price growth following the relaxation of the Central Bank mortgage lending rules and the announcement of the 'Help-to-Buy' scheme."