The euro has hit a nine-month high against sterling today, after the Bank of England (BoE) voted in favour of keeping interest rates at their record lows and revised down its growth and inflation forecasts for the United Kingdom.
After BoE Governor Mark Carney said in a press conference following the rate decision that business investment was likely to be below average, with bad consequences for productivity and wage growth, sterling fell to as low as 90.13 pence per euro, the weakest since early November 2016.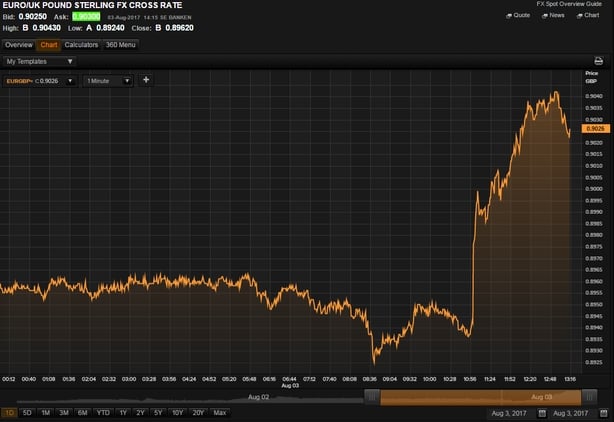 Shortly after 2pm the euro had risen 0.8% on the pay against the pound, reaching £0.9034.
Before the interest rate announcement, this morning one euro was valued at £0.8925.
Markets have focused on the BoE's downward revision of its 2017 growth forecasts, to 1.7% from 1.9% in May, as well as its unexpected lowering of its inflation projections, which it now saw at just under 2.6% in a year's time after peaking at around 3% in October.