The number of people seeking debt solutions continued to rise between April and June, according to new figures from the Insolvency Service of Ireland (ISI).
There were 1,259 new applications for debt solutions during the second quarter, an increase of 71% on the same period last year.
LISTEN: Much still to be done to help those in long-term debt
The vast majority of the applications (1,082) were for personal insolvency arrangements, which provide for the restructuring or settlement of secured debt up to €3m.
A total of 9,361 debt-solution applications have been submitted to the ISI since its inception in 2013. During the first year just 112 applications were made.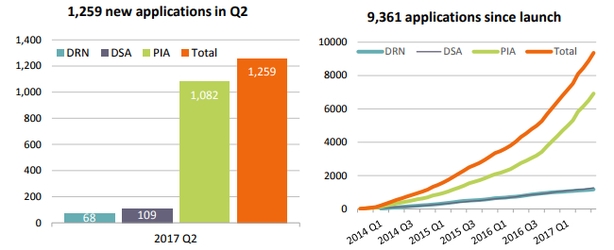 The data also show the number of protective certificates - the first stage in the debt solution process - issued between April and June increased by more than a quarter to 617, when compared with the preceding three-month period.
The number of approved debt solution arrangements has also risen, with 323 recorded in the second quarter.
This brings the total number of approved arrangements above 3,500 since 2013.
The ISI said the high level of new applications for debt solutions has been sustained by the Government's free mortgage arrears support service, Abhaile.
ISI Director Lorcon O'Connor said the figures demonstrate that the agency's solutions are "getting more and more people back on track financially.
"While it is understandable that the effects of debt on mental health can prevent people seeking the help they need, my message to anyone still experiencing unmanageable debt is to consult with one of our regulated professional advisors.
"Those with mortgage arrears can also avail of a free consultation with a Personal Insolvency Practitioner under the Abhaile service."
However, the Irish Mortgage Holders Organisation has said the insolvency legislation and process is not fit for purpose.
The organisation's CEO David Hall said: "With lagging numbers the government pumped millions into the system via the Abhaile scheme.
"Since the scheme began there have been 600 personal insolvency arrangements but over 6,000 Abhaile vouchers issued.
"So debtors have a one in ten chance of achieving an insolvency arrangement."