The price of supermarket groceries has fallen slightly over the past three months, which has led food shoppers to buy more items.
Latest figures from Kantar World Panel show supermarket grocery prices fell by 0.5% in the 12 weeks to 16 July, while the value of the sector rose by 2% to €2.34 billion – €45m higher than for the same period last year.
SuperValu was the grocery retailer with the largest market share for the eighth consecutive period, gaining 0.2% to stand at 22.1%.
Tesco is the next largest retailer (21.9% share), followed by Dunnes Stores (21.5%).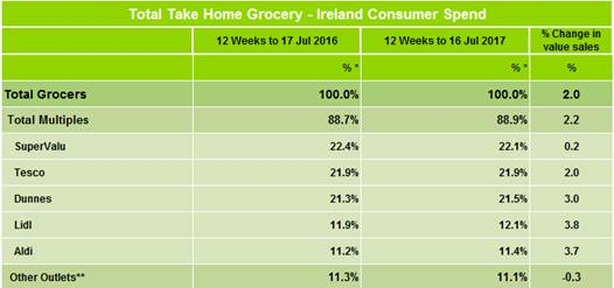 Growth among the discount retailers continues to be strong, with Lidl's market share now above 12%, while Aldi has an 11.2% share of the market.
Commenting on the figures, Kantar Worldpanel Consumer Insight Director Cora Campbell said: "Despite a decline in the average price per pack, the market has continued to grow.
"In response to lower prices, shoppers have been putting more items into their baskets, which has kept market performance on an upward trajectory.
"Shoppers continue to favour retailers' own brands, with sales growing by 3.7% and accounting for 55% of total grocery spending over the past 12 weeks."