One in three firms plan to implement pay increases in the next 12 months, according to the latest Bank of Ireland Economic Pulse.
The July survey also finds a higher proportion of workers - two in five - expect a pay rise.
The study says households' view of the economy and their own financial prospects was little changed on the month, but they were more upbeat about their current financial situation.
The Consumer Pulse - a survey conducted in conjunction with the European Commission and which measures business and consumer sentiment - is at its highest level since the Brexit vote last June.
The index, which combines the results of the Consumer and Business Pulses, was up 2.2 points on June and 2.8 points on this time last year.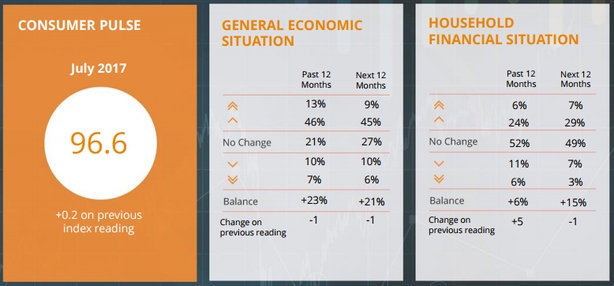 While the Consumer Pulse was broadly unchanged in July, it has been edging up in recent months.
The Housing Pulse gained ground in July, with a rise in the share of survey respondents expecting house prices to increase by more than 5% over the coming year.
The results also show that 57% of people think it is a good time to sell, with the Dublin figure higher at 65%.
Group Chief Economist with Bank of Ireland Dr Loretta O'Sullivan said: "The second half of the year got off to a good start, with the Economic Pulse reading in July the second highest of 2017.
"The business mood brightened this month with firms in the industry, services and construction sectors more upbeat. The Business Pulse is still off its pre-Brexit levels though."