The euro is at its highest level against the dollar in nearly two years, after what markets perceived as hawkish talk from European Central Bank chief Mario Draghi.
The euro is up 0.36% on the day trading at $1.1673, its strongest position against the dollar since August 2015.
Yesterday, Mr Draghi said that no exact date had been set for discussing any changes to the ECB's ultra-easy monetary programme but did say policymakers would revisit the topic in the autumn.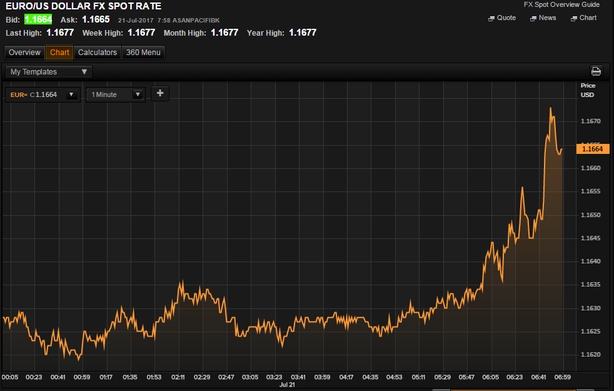 His comments were perceived as "hawkish, even though the ECB didn't tip its hand as to when it will begin balance sheet normalisation and in fact left the door open to additional easing if needed," said Bill Northey, Chief Investment officer at US Bank Private Client Group in Helena, Montana.
The euro is also considerably stronger against sterling this morning, gaining 0.13% to hover just below £0.90p.
The single currency is also up a similar amount against both the Japanese yen and the Swiss franc.