Ireland has 3,821 property millionaires, according to the latest Daft Wealth Report.
The number of homeowners in Ireland whose property is valued at €1m or more has shot up, driven by year-on-year house growth of 9.4%.
The research shows there are now on average 12 properties sold nationwide every week that are valued at €1m or more.
It also says that based on the 1.7m occupied dwellings, the combined total residential property value in the country is valued at almost €392 billion.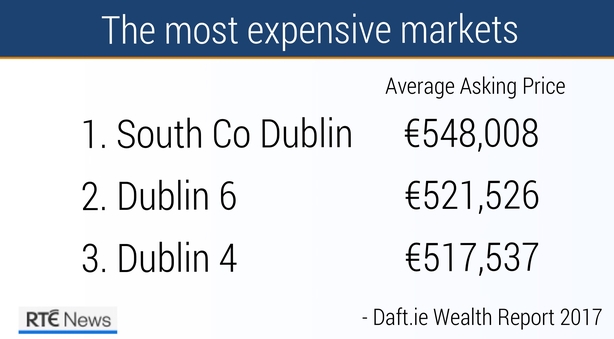 At the top end of the market there were 2,686 transactions of at least €1m since January 2010, equating to just over 1% of the total market.
The highest concentration of property millionaires is in Dalkey with 609, followed by Blackrock (576), and Foxrock (540).
By location, the most expensive markets are all in Dublin.
The average house asking price in Sandycove is now €787,000, followed by Foxrock at €759,000, and Mount Merrion (€748,000).
Outside of Dublin, Enniskerry in Co Wicklow is the most expensive market with average property values of €495,000.
In Munster, Kinsale is the top location with average asking prices of €309,000.
The Daft report indicates that in Connacht-Ulster Kinvara is the area with the most expensive houses, with average asking prices of €257,000.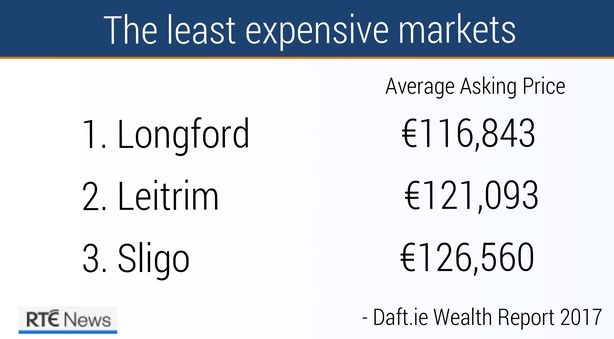 At the other end of the scale, the two least expensive property markets are both in Roscommon, with the average asking price in Ballaghaderreen standing at €58,000, with Strokestown next at €59,000.
Commenting on the figures, Ronan Lyons, economist at Trinity College Dublin and author of the report, said: "What is clear from the figures published in this report is that housing wealth is concentrated in urban areas.
"By connecting this with information on public spending, it is possible to see whether all areas are getting their fair share of public monies."