Ireland's trade surplus jumped by more than a third to €4.3 billion in May, while there was a notable rise in the level of trade with the United Kingdom.
Preliminary data from the Central Statistics Office show the value of goods exported increased by €644m (+7%) to €10.12 billion between April and May, while imports for the same period fell by €519m (-8%) to €5.88 billion.
This resulted in a €1.16 billion (+37%) increase in the seasonally adjusted trade surplus.
There was also a rise in the level of trade with the United Kingdom despite Brexit-related uncertainty over the future trading relationship, with exports rising by 14% to €1.24 billion in May of this year when compared with the same month in 2016.
Meanwhile, imports from the UK rose by 21% to €1.55 billion over the same time frame.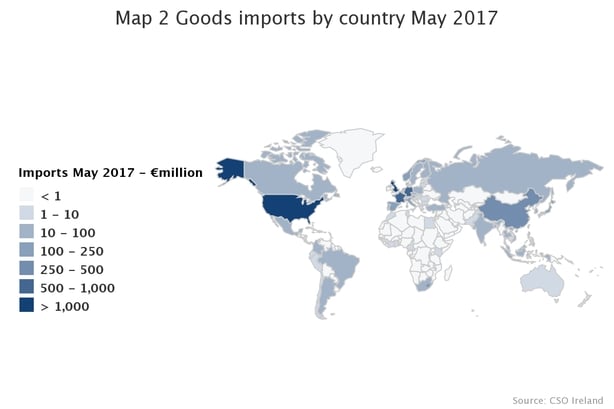 Both imports to and exports from the UK are considerably higher for the first five months of this year, when compared with the same period in 2016.
Overall, exports of medical and pharmaceutical products increased by €604m (+28%) to €2.79 billion in May, when compared with May 2016.
Exports of food and live animals were also up, rising by 25% to €974m.
On the imports front, there was a 26% jump in 'chemicals and related products' to €1.6 billion, while vehicle imports dropped by 21% to €282m over the same comparative period.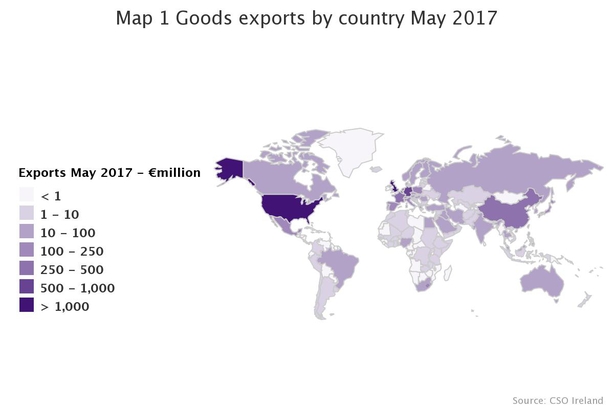 The EU accounted for €5.33 billion (52%) of total Irish goods exports in May, an increase of €492m (10%) on May 2016.
Exports to Belgium were €1.30 billion, while Germany accounted for €791m.
The US was the main non-EU destination for Irish exports during the month, accounting for €2.41 billion (24%).
Nearly 60% of Irish imports came from the EU in May, while 20% came from the US, and 6% from China.

Commenting on the figures, Alan McQuaid from Merrion Capital said: "Business and consumer confidence have been dented to some degree, though not in major way, in recent months by the uncertainty surrounding 'Brexit'.
"Indeed, the trade data for last year were positive. Still, the uncertainty over the implications of Britain's decision to leave the EU suggest risks on the external trade front remain elevated going forward, especially for food exporters.
"The movement in the euro/sterling exchange rate will be critical in this regard."